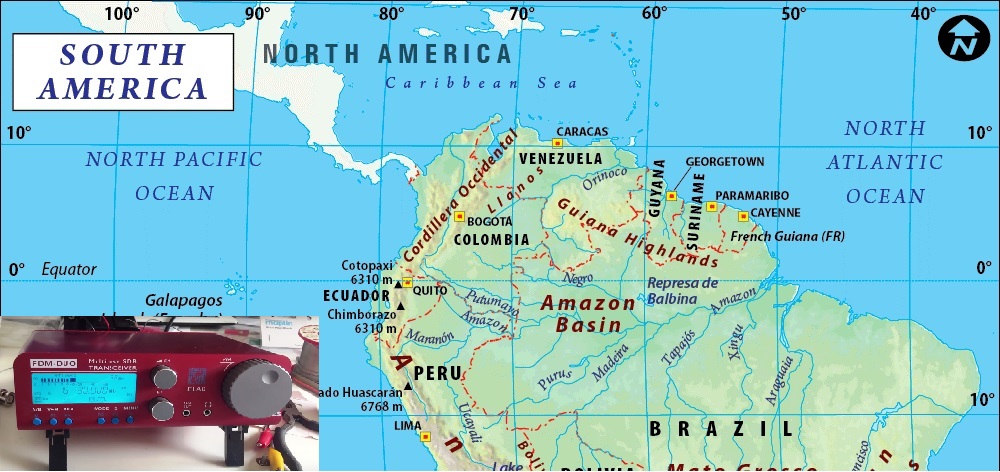 Hi there, I thought I would share a few recent medium wave DX catches from South America. In the past month or so, I've managed to record signals from Colombia, Peru, Venezuela and one that I'm particularly happy about – Ecuador, which is rarely reported in Europe. All catches were obtained with my usual indoor home set-up – the brilliant little Elad FDM DUO coupled to the equally brilliant Wellbrook ALA1530 active loop antenna. I have started to take the Elad on DXpeditions now, having constructed a battery pack for it, but the results I'm yielding outdoors are so far mainly with shortwave reception, where the improvement in SNR is quite obvious in the size of the carriers I'm observing and much improved modulation/ audio clarity on the Tropical Band. Hopefully in time, similar results will yield on medium wave. In the meantime, Im very happy with the indoor performance and these catches demonstrate that. There are many more reception videos on my YouTube channel Oxford Shortwave Log, including a large number of signals recorded from North America on medium wave. Direct links follow below and further down, embedded reception videos. Thanks very much for watching, listening and I will you all excellent DX.
---
Medium wave DX: Radio Huellas 1470 kHz, Cali, Colombia, first reception
Medium wave DX: Bethel Radio 1570 kHz, Lima Peru, first reception
Medium wave DX: Radio Santa Maria 1490 kHz, Azogues, Ecuador
Medium wave DX: YVKS RCR 750 Radio Caracas 750 kHz, Venezuela
Clint Gouveia is the author of this post and a regular contributor to the SWLing Post. Clint actively publishes videos of his shortwave radio excursions on his YouTube channel: Oxford Shortwave Log. Clint is based in Oxfordshire, England.