Many thanks to SWLing Post contributor, DanH, who provides his final evaluation of the new Sangean ATS-909X2:
---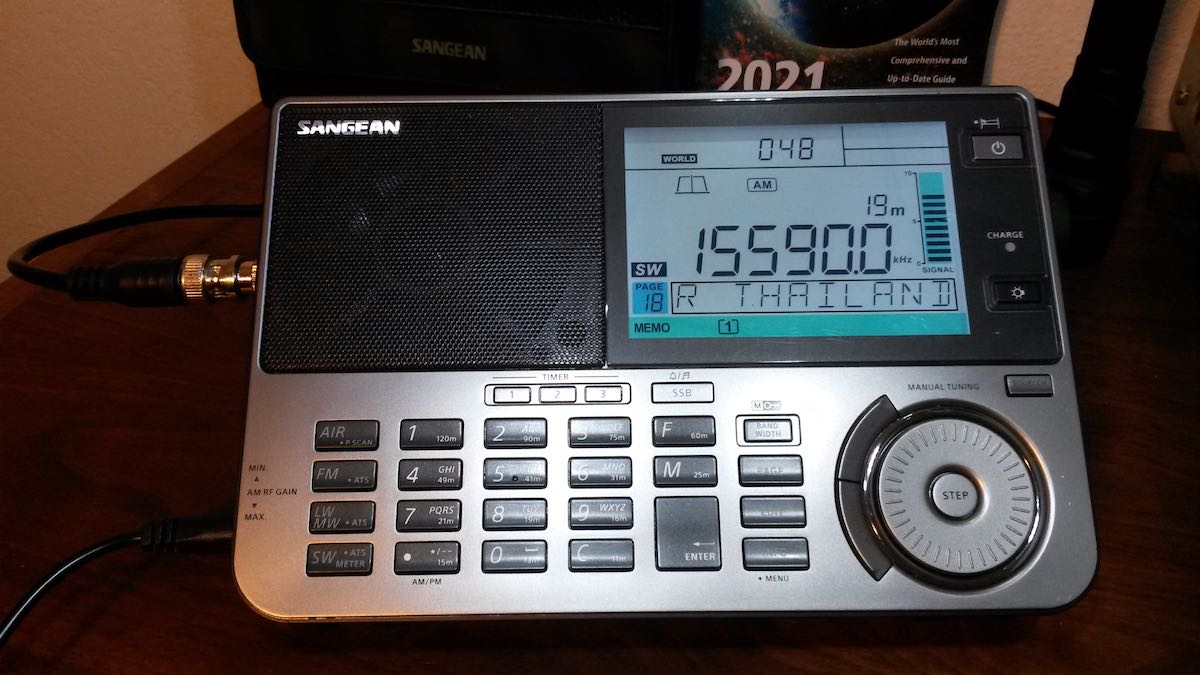 This should be the last update for my multi-part introduction to the new Sangean ATS-909X2. I am not expecting major new factory revisions or modifications for this fine radio. I received the 909X2 from Amazon on Sunday, February 21, 2021. This radio had VER 070 firmware installed. About a month later Sangean America offered a free upgrade to VER 073. I packed up my 909X2 and sent it away on March 29. My original radio with the original serial number was returned to me on Friday, April 9 following the firmware upgrade.
The 909X2 was away from home for eleven days but I had the 909X to keep me busy on shortwave. Time after time I reached for the new bandwidth controls on the older radio which were, of course, not there. This told me a good deal about how quickly I had become dependent upon some of the new 909X2 features.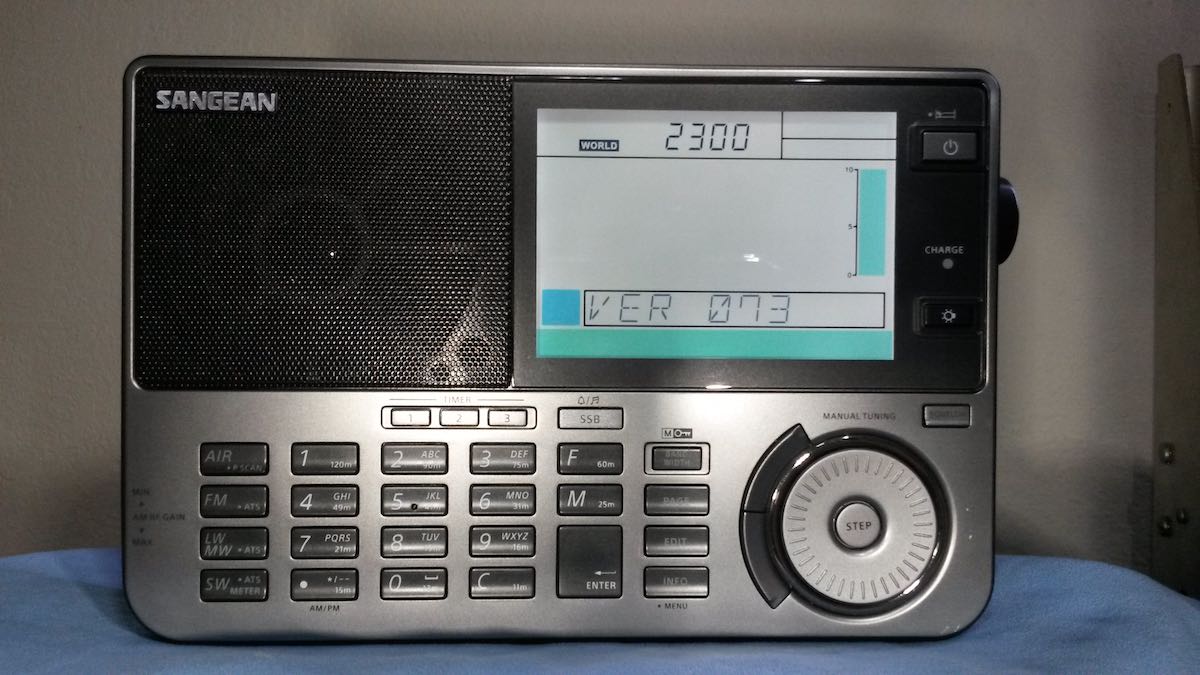 As of this writing I have listened to the 909X2 VER 073 for several days. Let me tell you that in spite of my best efforts I could not find many differences between the two firmware versions. The later version was reported to correct some bugs encountered while using memory features. I can't confirm this. I deliberately avoided making memory entries with my 909X2 VER 070 before I returned it as I understood that those presets would be lost with the firmware update. I gave the 909X2 memory a real workout last weekend but experienced no bugs during this mostly repetitive inputting session. More about that later.
One of the oddities of VER 070 firmware was a nice feature, actually. Cycling the INFO button would bring both radio signal strength (RSSI) and signal to noise ratio (SNR) up on the display at the same time. This feature was not described in the instruction book. With VER 073 you can toggle between one or the other but can't see both at the same time. You can see this deleted feature below and watch it on my video:
I have tried to bring this feature up on VER 073 without success.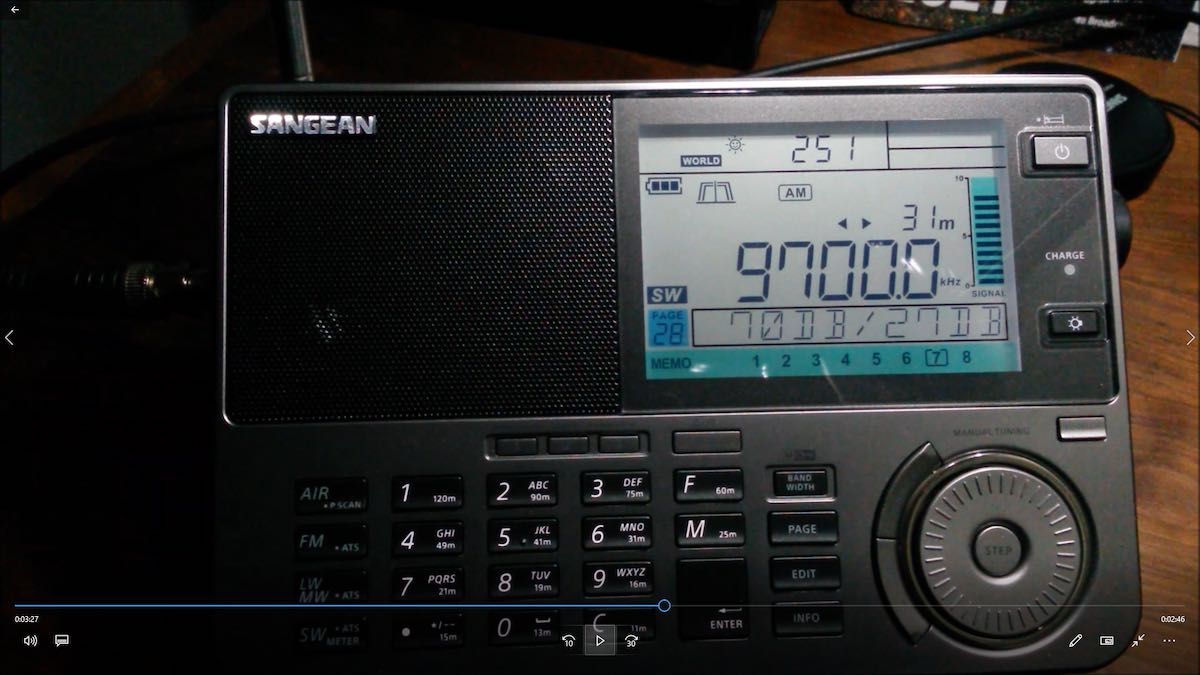 I found one small gremlin that seems to thrive on both 909X2 firmware versions. 909X2 indicates selection of fast or slow tuning rates by showing delta symbols on the display. Switching shortwave bands with the SW button followed by selecting a BAND button will result in a band change and disappearance of the delta symbols. Using the tuning STEP button will make the delta symbols return. Switching shortwave bands by using the "F" frequency button followed by number key entries and the ENTER button is slower for changing bands but does not cause the tuning step indicators to disappear.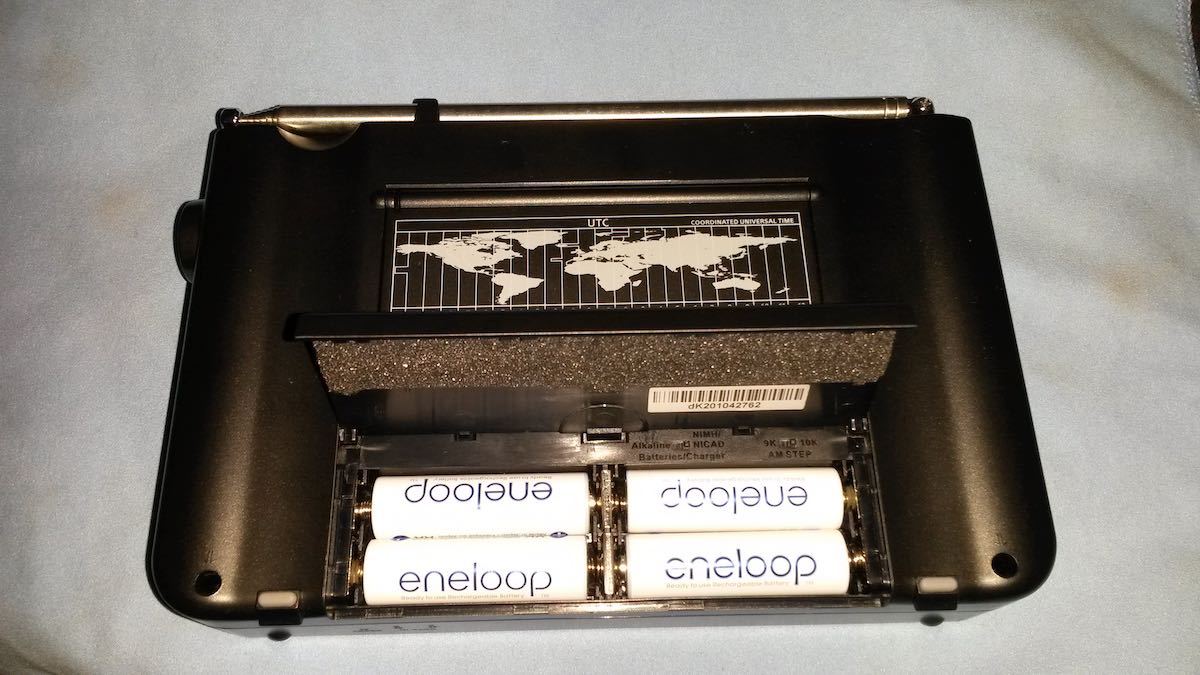 909X2 charging and power supply design was much improved for the 909X2. 4xAA NiMH cells are individually charged and monitored. Charge times are faster, as well. The radio will identify cells that are defective, aging or wearing out. Each cell now has a separate slot in the battery bay. This contributes to longer battery life cycles, less waste heat production and improved rechargeable battery safety. This is a worthwhile but not very obvious upgrade from the 909X. The most noticeable outward change is the wider battery bay door.
Early production 909X wall wart power adapters are AC/AC center pin negative. Late 909X and 909X2 adapters are AC/DC center pin positive and feature in-line RF chokes. Both of my 909Xs contributed more RFI to shortwave reception when operated with AC power than the new 909X2. The upshot was that when I listened to shortwave at the desk with a 909X I would run it off batteries even if a wall outlet was handy for running AC power, much like any other multiband portable with shortwave. The 909X2 on AC power is so quiet that I usually have it on AC power when I have it at the desk. I can hear a little hum when using 909X2 under AC power when an external antenna and headphones (Sennheiser HD 280 Pro) are in use. I don't hear this hum at all when using 909X2 speaker audio probably owing to the better bass response of my 'phones. 909X2 will not initiate battery charging after every use. It charges only when needed. I now disconnect the 909X2 from AC power only when listening to shortwave with headphones or when using it as a cordless portable.
I have written earlier about the 909X2 MANUAL/AUTO bandwidth features. I normally use manual bandwidth filter selection for shortwave but with rough voice signals I sometimes find that 909X2 auto bandwidth plus the correct audio filter choice can do a better job than ECSS… and the 909X2 does ECSS and SSB very well. Auto bandwidth is excellent for less demanding conditions too, like keeping a radio tuned to a local MW or FM station that may fade lightly over the course of a day.
For FM the combination of great audio quality, RDS and now auto bandwidth makes the 909X2 hard to beat by any other multiband portable with shortwave.
The 909X2 is not my first radio with bandwidth filters provided by Silicon Labs DSP. I have long suspected that these filters are actually much wider than described by most manufacturers of portable multiband radios. The widest filter available for shortwave on 909X2 is identified as a 4 kHz bandwidth filter. This surprises me because the filter actually seems to accomplish attenuation somewhere between 3 and 4 kHz away from the carrier. This means the widest filter for shortwave is actually 6 to 8 kHz wide. This makes complete sense to me as to my ears this filter sounds closer to an 8 kHz bandwidth, which isn't a bad choice for strong SW stations without interference.
I am an enthusiastic user of shortwave station memories. The 909X memory capacity is nearly too small for my current usage. The 909X2 has many more memory presets available and divides those into three memory banks. Something that many people did not understand about the ATS-909X is that when released in 2011 it never featured ATS for shortwave because it lacked the memory to do the job. Now, 909X2 memory banks may be reserved for favorite station pages or set aside for ATS scans.
Manual entry of shortwave pages and presets is relatively easy and fast on the 909X2 and is substantially unchanged from 909X. You may title pages alphanumerically any way you wish. 909X2 adds an additional feature: you may now change the position of a memory preset to another position on the same page or another page.
Setting up the new memory for the 909X2 took me the better part of an evening but good memory function is a huge advantage for anyone wanting to do shortwave station searches. There are many sample shortwave memory presets provided with the stock 909X2. If you enter your own pages and presets into 909X2 memory I suggest deleting all of the sample entries first (page names and presets) before starting your inputting. This will save you a great deal of time.
Each of my custom memory pages has a shortwave broadcaster name followed by a letter if I use more than one page for a single broadcaster. The 909X2 can scan preset frequencies on each page individually and land on the frequency with the strongest signal. If the location of saved station entries in specific memory banks isn't sufficient deterrent for accidental erasure (like running an ATS scan on top of preset stations) the new 909X2 MEMORY LOCK feature will allow you to lock presets individually.
This may be the last update that I will post for the new Sangean ATS-909X2 but I will check the box at SWLing Post that allows me to see notifications of comment activity for this post for the foreseeable future. I'll be happy to answer any questions regarding the Sangean ATS-909X2 addressed to me in the comments, if I can. For more 909X2 videos, see my YouTube channel at: Willow Slough DX
I will be adding to these as the new shortwave season advances. Happy listening!
DanH
---
Thank you so much for sharing your final evaluation, Dan!
If you would like to read all of DanH's notes and reviews of the Sangean ATS-909X2, click here.
Sangean ATS-909X2 Retailers: