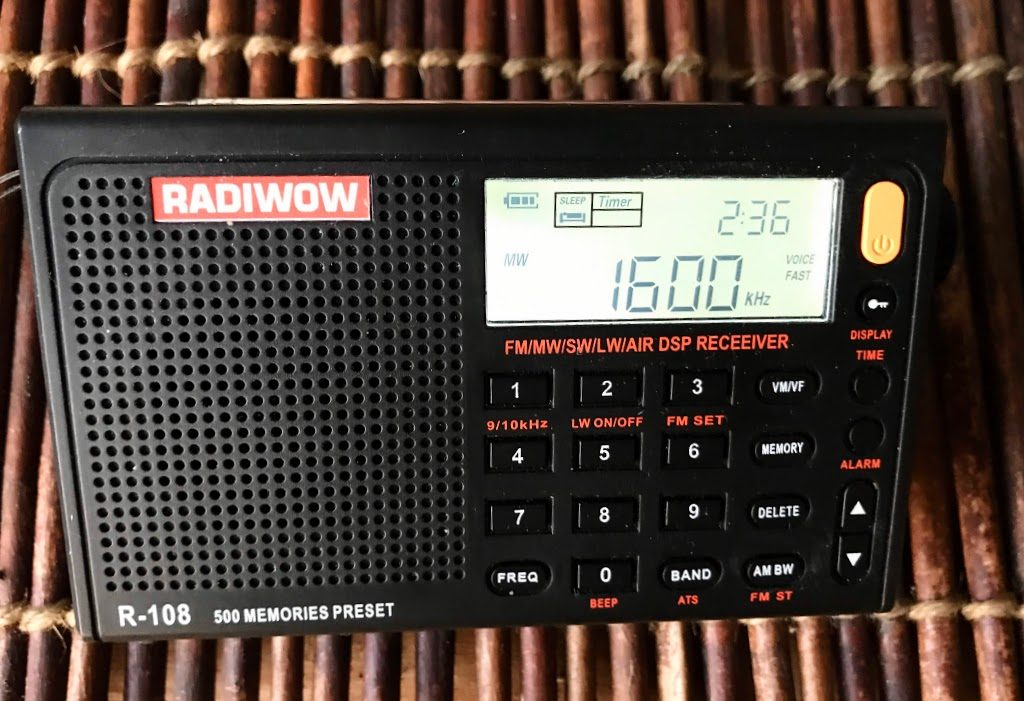 As I mentioned in a post yesterday, I've been spending time with the Radiwow R-108 in an effort to give it a proper evaluation.
One quirk that has been a little hard to pin down is the occasional DSP birdie on the mediumwave band. [BTW: A "birdie" an unwanted internally-generated noise which, in this case, manifests itself as a variable squeal. Click here to learn more.]
When I first received the R-108, I noticed that each time I turned it on while tuned to the mediumwave (AM broadcast) band, I'd hear a temporary birdie/squeal that would last anywhere from two to seven seconds. After the initial noise, the squeal would go away.
During long (one hour plus) listening sessions, the squeal would sometimes reappear for a few seconds seemingly at random.
Turns out, there's a pattern that I overlooked.
Yesterday, I turned on the R-108 and a birdie was present on 1600 kHz. Unlike previous listening sessions, the variable squeal was persistent–it didn't go away after a few seconds. I pulled out my phone and took a quick video (moving quite far away to show that my phone wasn't the source of noise):
Click here to view on YouTube.
There were two factors I think may have been responsible for the persistent birdie:
The broadcast signal on 1600 kHz was weaker than normal
The R-108 battery was at 50% or less
Perhaps the battery has nothing to do with this, other than it might have had a slight negative impact on the receiver sensitivity?
Still, my observations confirm that when the battery is fully-charged, the birdies are overall less prevalent.
I tuned off of 1600 kHz and the the birdie disappeared. Even on 1590 kHz or 1610 kHz where there were only faint signals, there was no birdie.
I should note here that 1600 kHz is home to my favorite regional AM station, so quite often when I turn on the R-108, it defaults to 1600 kHz (hence the reason the birdie seemed to plague me).
I then tuned down the dial in 10 kHz steps until I noticed another persistent birdie on 1200 kHz:
Click here to view on YouTube.
The birdie on 1200 kHz was fainter than the one on 1600 kHz–perhaps half the intensity.
The pattern seemed way too familiar, so I looked into the SWLing Post archives and discovered that the Sangean ATS-405 also had birdies in the same locations on the MW dial.
Here's a video of the ATS-405 birdie on 1600 kHz:
Click here to view on YouTube.
Obviously, the ATS-405 and R-108 either share the same DSP chip, or the design/implementation is similar.
I checked the R-108's entire mediumwave band and discovered one more birdie on 800 kHz, although quite faint:
Click here to view on YouTube.
So far, I haven't had the time to do a full survey of the shortwave bands to see if the birdie is present on HF as well.
I know that there are a few other R-108 owners out there who took advantage of Radiwow's special pricing on pre-production models to do initial reviews. Please comment if you have also noticed birdies or any other quirks on your R-108 sample.