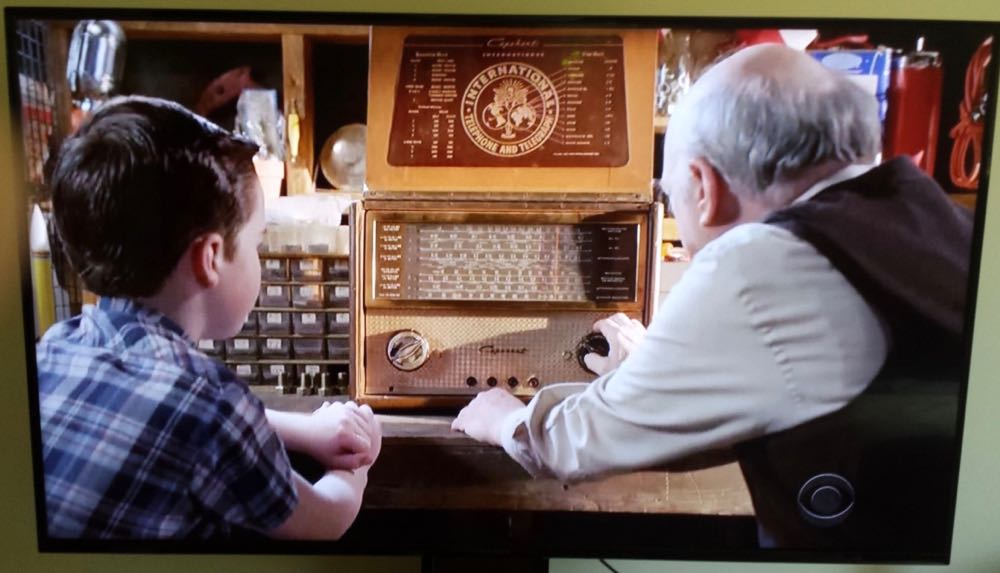 Many thanks to SWLing Post contributor, Steve Yothment, who writes:
Check out the attached picture. It is from a preview of tonight's episode of "Young Sheldon." In it, Sheldon and Dr. Stergis are listening to an antique shortwave radio. I think it is a Capehart International Radio Model 88P66NL.

Also in the preview is an active loop receiving antenna. The show is supposed to be about Sheldon when he was young, back in about 1985. I don't think active loop antennas were very popular at that time! Maybe they got the timeframe wrong on the use of the antenna. What do you think?
What a catch! I love the flip-up cover on the Capehart although I'm sure in daily use it might have been a bit unhandy. 🙂
Regarding active magnetic loop antennas, like you, I don't remember them being around much in the mid 80s, although I know the technology was available. I imagine they were used in speciality commercial and military applications. Like you, I'm guessing we didn't have as many noisy switching power supplies which make them such a necessity these days. I remember happily DXing with my Zenith Transoceanic in the middle of my house in the mid 80s.  Those were certainly the days!
Post Readers: Do you know of any active magnetic loop antennas that were used in homes in the mid 1980s and before?  If so, please comment!
I'll add this post to our ever growing archive of radios in film!