Many thanks to SWLing Post contributor, Jerry Popiel, for the following guest post:
---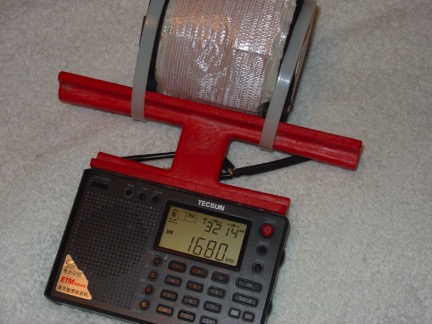 A MW DXing Powerhouse Mini FSL Antenna
by Jerry Popiel
In late February 2016 I completed construction of a modified version of Gary DeBock's excellent 3 inch Mini FSL design (click here to view).
This new antenna is nothing short of a AM DXing powerhouse with unbelievable sensitivity for receiving stations across the entire AM Bandwidth both day and night. The tuning of stations is razor sharp and it has stunning nulling qualities. Consultation assistance was provided from DXing experts Steve Ratzlaff and Gary DeBock on the project.
Construction Details:
The Antenna was constructed using 9 – 100 mm Ferrite Bars wound on a 2.75 inch diameter x 4 inch styrofoam cake dummy form custom made by in Vancouver, B.C. Canada – ([email protected]) for $3.50 plus shipping.
The Coil wire consisted of 38 turns of high gain 660/46 Litz Wire. (Note: As can be seen 38 turns of the thicker Litz Wire left only 5/8" of room on each side of the Styrofoam Form to wire wrap the coil to the ruler frame. A longer Form ie 5" long would work much better for this build).
The insulation spacer used was 2 layers of 1/8 inch Aerotape self adhesive tape which also helped hold the 100 mm Ferrite Bars onto the Styrofoam Coil Form. Inductance measured 356 uH using a DM 4070 Meter which is well within the requirement of over 300 uH for AM Band Reception.
Because of the extra thickness of high gain 660/46 Litz Wire which is a bit too big to solder to the inside terminals of the Tecsun PL-380 Radio, a 2 Position Terminal Block was superglued to the outside of the Ruler Frame to act as an interface connection point.
Testing Results:
Both daytime and evening AM station captures have been spectacular. Stations as far away as KKOB / 770 kHz Alberquerque, New Mexico 1130 Miles from here in Winnipeg, Manitoba, Canada have been received. Country music station WSM / 650 kHz in Nashville, Tennessee 1082 miles distant is a daily evening pickup.
Two Stations Received At 600 kHz 90 Degrees apart at the same time:
The amazing Nulling and Razor Sharp Tuning quality of this FSL was demonstrated when 2 stations at 600 kHz were received at the same time by rotating the Radio with attached FSL 90 degrees. In the North / South direction Station KSJB / Jamestown, North Dakota (219 miles distant) was received with a strong signal strength of 50 / 23. Then by rotating the Radio 90 degrees to the East / West direction Saskatoon, Saskatchewan station CJWW (442 miles distance) was captured with a similar strong signal strength of 44 / 24.
Daytime Reception of 600 Watt Station 137 Miles Distant:
A major daily AM reception capture during the afternoon illustrating the amazing sensitivity of this antenna is 600 Watt station KKXL Sports Radio 1440 kHz (137 miles).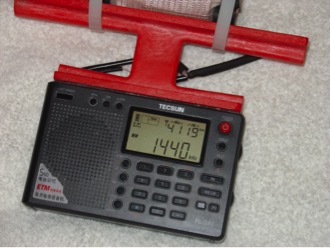 All Indoor Reception – For Now!
Due to winter conditions here in Winnipeg, all of the amazing station reception captures in this report were done inside the House facing towards the South window. Fortunately the red ruler platform sides can he used as handles when pointing the radio in the direction of best reception. Exciting times are ahead to see how well this mini 3" FSL will perform outdoors for likely even better AM DXing.
Summarizing:
The design of this new FSL Antenna attached to the Tecsun PL-380 Ultralite radio by Gary DeBock is a major breakthrough in AM DXing since the Radio is attached to the FSL. This new FSL Antenna needs to be constructed to be really appreciated. The application described here requires a bit more skill to construct and is also heavier than the original construction – but at least it is portable. For beginners Gary's original 3" FSL Heathkit Design is highly recommended and can be reviewed in his You Tube Video posted at: https://www.youtube.com/watch?v=VY9u8MReGjk
Thanks,
Jerry Popiel
Winnipeg, Manitoba, Canada
---
Thank you, Jerry! It's amazing what performance you and Gary DeBock have gotten out of these homebrew FSL antennas! Thank you so much for taking the time to share your construction details and performance notes!