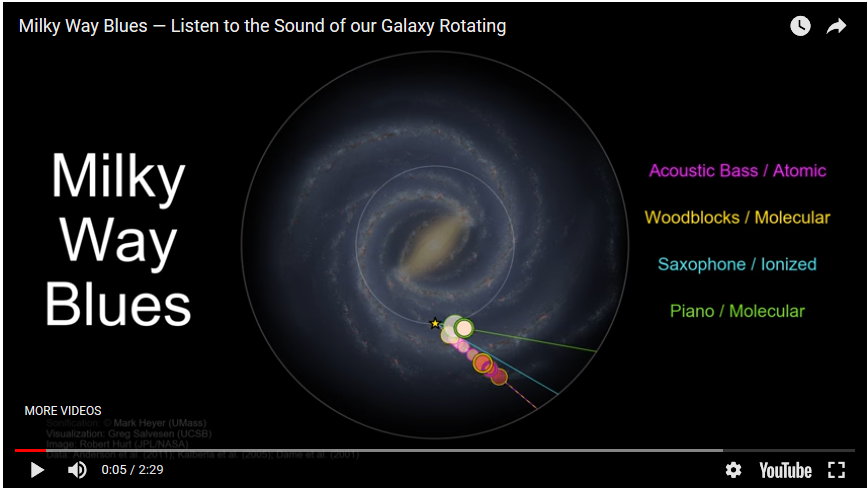 Rather than take pictures of the Milky Way, astronomer Mark Heyer decided to capture it in a completely different art form.
This amazing video is part of an article from Interesting Engineering  depicting the motion of the Milky Way translated into a musical score.
While most astronomers love capturing unique and stunning images of the Milky Way, one astronomer wanted to capture the galaxy in a unique way. Astronomer Mark Heyer expressed how the galaxy moves in the musical composition "Milky Way Blues."

This is no Vivaldi's "Four Seasons," as the music isn't simply inspired by the galaxy's sounds; it is the galaxy's sounds. The University of Massachusetts Amherst professor created an algorithm that transformed the data into a series of notes.

"This musical expression lets you 'hear' the motions of our Milky Way galaxy," he says. "The notes primarily reflect the velocities of the gas rotating around the center of our galaxy."

Heyer assigned notes to the atomic, molecular and ionized gases that can be found between the stars in our galaxy. He then gave different pitches, tones and note count to the velocity and spectra of each gas phase. For example, atomic gases were given an acoustic bass sound, molecular gasses got woodblocks and piano, and ionized gases became saxophone notes.

"Astronomers make amazing pictures, but they're a snapshot in time and therefore static. In fact, stars and interstellar gas are constantly moving through the galaxy but this motion is not conveyed in those images. The Milky Way galaxy and the universe are very dynamic, and putting that motion to music is one way to express that action." He chose to compose this piece using a pentatonic scale – with five notes in the octave instead of seven – and in a minor key, because "when I heard the bass notes it sounded jazzy and blue," he said.
You can read more about this incredible process here.
Enjoy!
Robert Gulley, AK3Q, is the author of this post and a regular contributor to the SWLing Post.       Robert also blogs at All Things Radio.