Yesterday afternoon, I packed up the Sony ICF-SW100, Audiomax SRW-710S and Elecraft KX2 portables in search of a quite spot to listen to the BBC World Service Antarctic Midwinter Broadcast. I also packed my PK Loop and NASA PA 30 antennas.
I'm traveling in Canada again and staying in an RFI-dense condo. There was no way I'd hear the broadcast through the noise, so I searched for a field location.
I discovered a quiet spot to park on the banks of the Saint Lawrence River in Sainte-Anne-de-Beaupré, Québec, Canada.
The location was almost ideal: it was RFI quiet compared to other spots I checked and I had access to a tree where I could hang the NASA PA 30 wire antenna.
Once I arrived, with little time to spare, I deployed the NASA PA 30 and connected it to my Elecraft KX2 transceiver. I then connected the Sony ICF-SW100 to the PK Loop antenna.
Since the KX2 is the most sensitive receiver in my travel arsenal–and even has built-in noise blanking, variable DSP noise reduction, and variable filter width–I used it as the source for my recording.
None of the frequencies used for the Midwinter broadcast were ideal for my location and time of day (after all, these broadcasts target Antarctica!) but last year I did successfully receive the 41 meter band broadcast.
My fingers were crossed as the broadcast time approached (17:30 local/21:30 UTC).
A few seconds before the half hour, I heard the AM carrier light up on 7,360 kHz (ASCENSION). Very good sign! The broadcast audio followed a few seconds later and was weak, but intelligible. I would give the signal an overall SINPO of 35343.
I couldn't receive a thing on the 6035 kHz (DHABAYYA) and only an extremely faint signal on 5985 kHz (WOOFFERTON).
The Elecraft KX2/NASA PA 30 combo did prove to be the most effective receiver/antenna pair.
I forgot to do two things in advance, however: to turn off the KX2's key beeps (which would have been audible in the recording had I adjusted receiver settings) and to set my Zoom H2N to record in WAV format. Oh well…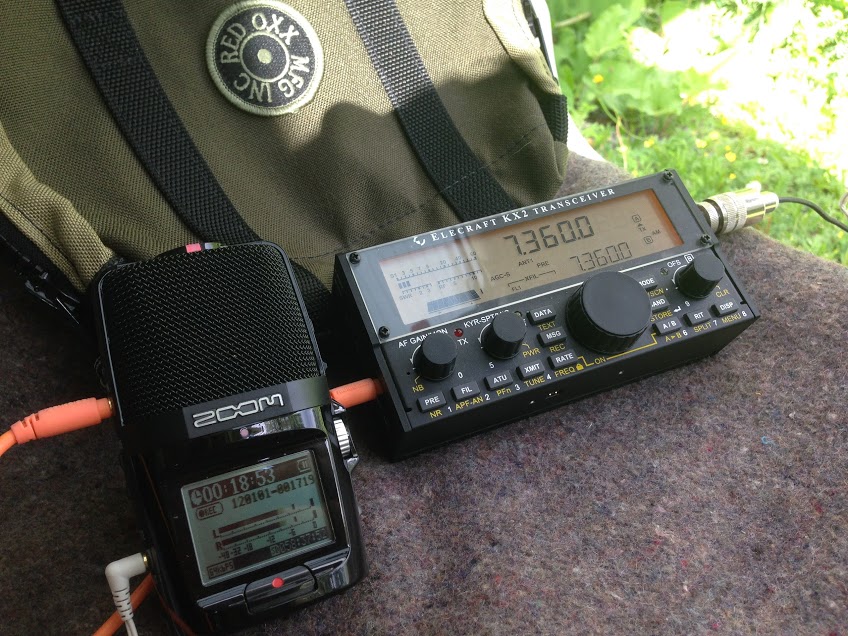 I was very pleased with the results, all things considered.
The Sony ICF-SW100/PK Loop combo was also quite effective. The signal was a little weaker and less stable than the KX2, but I was still very pleased overall. Here's a short video–note that I have the sync lock engaged:
Click here to view on YouTube.
The PK Loop was positioned on a folding trail seat close to the ground. After experimenting, I found that loop height had little impact on overall reception, so I opted to keep it closer for accessibility.
Very impressive reception of weak DX for such a small portable a compact loop antenna. In the end, the SW100 is a phenomenal little DX machine!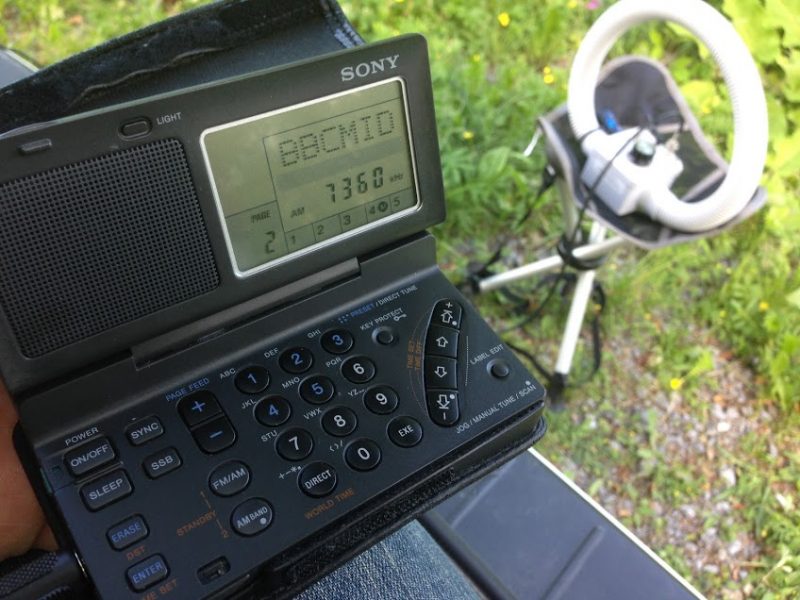 I brought the Audiomax SRW-710S along as well. Since it has a built-in digital recording feature, I had hoped it might provide an additional recording of the broadcast.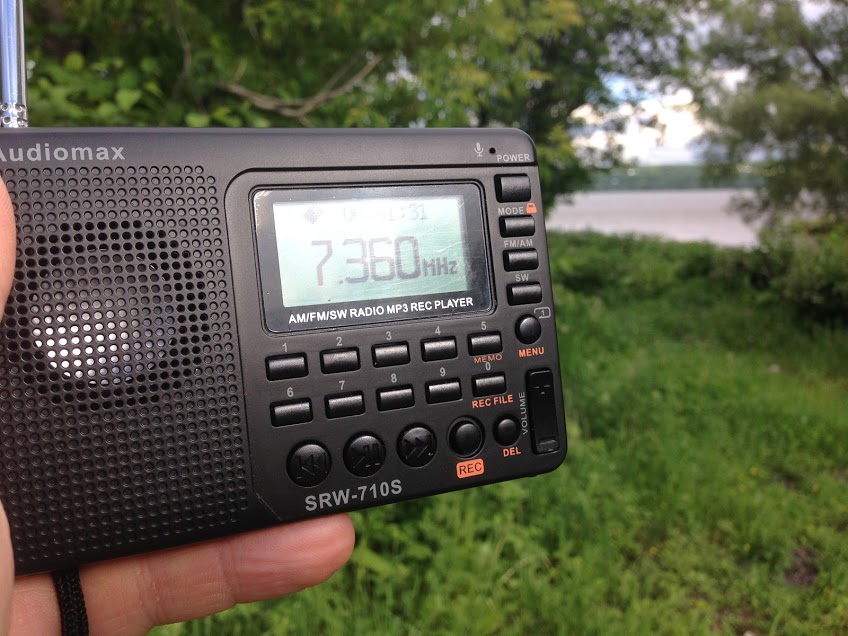 Sadly, it fell short.
No matter how I positioned the receiver, nor what antenna it was connected to, the SRW-710S simply couldn't cope with the weak signal, QRN and overall band conditions. The noise floor was high and the signal (when audible) very unstable. It was like listening to a battle between the receiver's internal noise and the target signal.
The $20 Audiomax simply can't compare to benchmark receivers like the ICF-SW100 and Elecraft KX2. Still, it's an acceptable little radio for recording stronger shortwave, mediumwave and FM signals. I completely agree with Troy Riedel's assessment.
Another Midwinter broadcast for the books!
It's always a treat to enjoy the BBC Antarctic Midwinter Broadcast live, knowing that the BAS crew, wintering over in Antarctica, are enjoying it at the same time!
That, in a nutshell, is the magic of shortwave radio.
Please share your recordings!
I've already received a healthy number of recordings from SWLing Post readers!  Thank you so much!
If you have a recording of the 2017 Midwinter Broadcast that you'd like to submit, please do so by Sunday. I'm participating in Field Day and attending an airshow this weekend, but plan to publish a post with all of the recordings and your photos early next week.
Please send your recordings with any notes and photos to my email address which can be found on the Contact page. If you submit a video, please upload it to YouTube or Vimeo and simply send me the link. Thank you!