Only a couple of hours ago, I packed up the Sony ICF-SW55 and CC Skywave portables in search of a quite spot to listen to the BBC World Service Antarctic Midwinter Broadcast. I'm currently traveling in Canada and staying in a condo–the RFI in this building couldn't be much worse. There was no way I'd hear the broadcast through the noise.
In search of an outdoor listening spot, I stopped at a couple open/green areas but in both cases, there was radio interference nearby. Finally, I found a quiet spot in the rather large parking area next to the gorgeous Saint-Anne-de-Beapré Basilica.
At this point, I only had three minutes to put a fresh set of batteries in the Zoom H2N recorder, connect it to the ICF-SW55 and hope that somehow I'd hear the 7,360 kHz broadcast from Ascension Island which, in fact, was directed toward Antarctica–not Canada!
I had my fingers crossed as the time hit 17:30 local (21:30 UTC).
Fortunately, I was rewarded with a signal!  Not exactly armchair listening, but let me tell you I'm as pleased as punch!
After tinkering with the position of the receiver, antenna and recorder, I discovered that I achieved the best reception by placing the Sony on top of my car.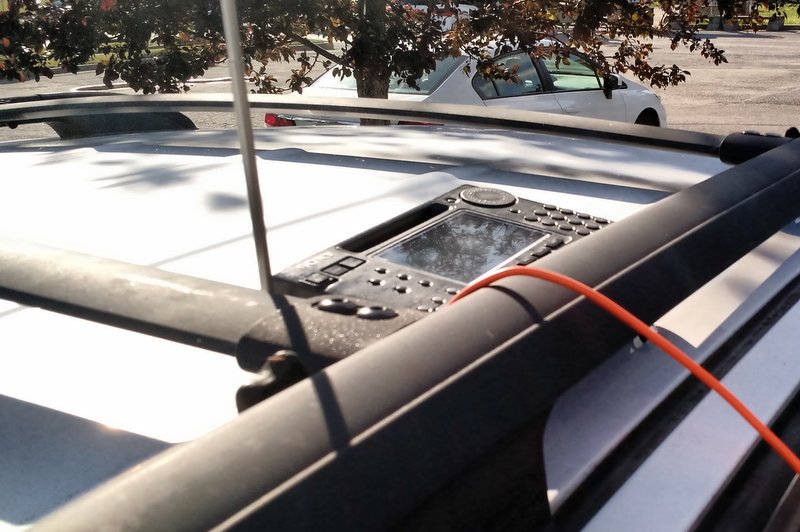 I ran the line-out audio (orange cord) to my Zoom H2N recorder inside the van and monitored the broadcast with my earphones hooked to the recorder.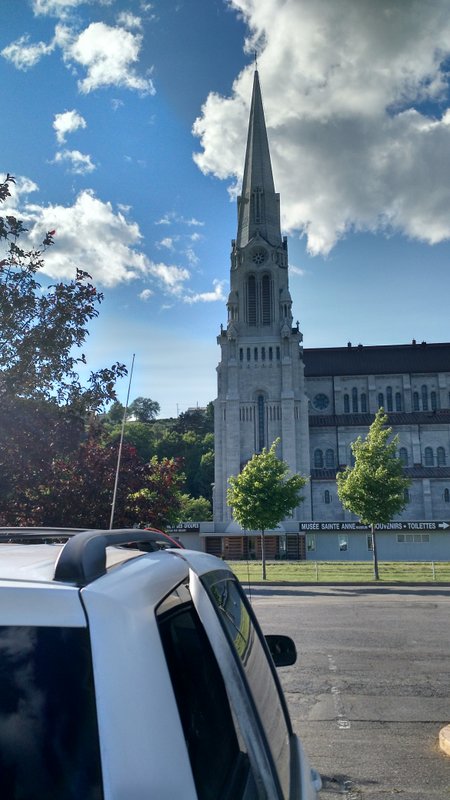 About halfway through the broadcast, I remembered I had the CC Skywave in my bag as well, so I turned it on and walked around the van. It, too, could receive the BBC Ascension Island signal with some strength, but the SW55 had an edge on it in terms of AGC stability.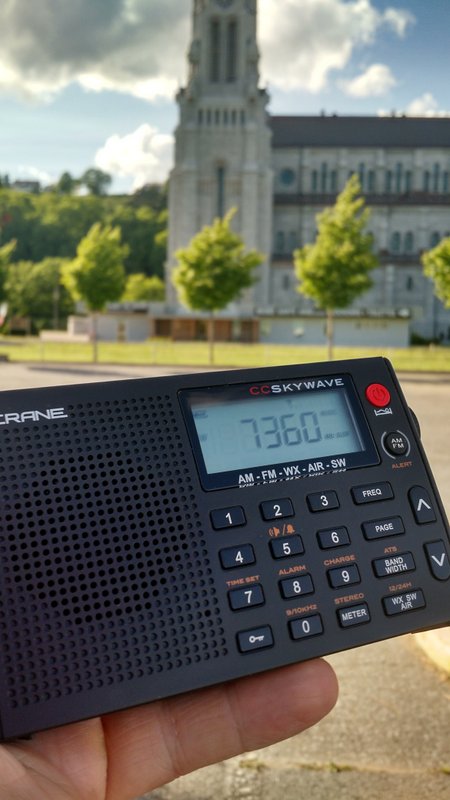 Still, very impressive reception for such a small portable with such a modest antenna.
It's always a treat to enjoy the BBC Antarctic Midwinter Broadcast live, knowing that the BAS crew, wintering over in Antarctica, are enjoying it at the same time!
That, in a nutshell, is the magic of shortwave radio.
Please share your recordings!
I've already received almost a dozen recordings from SWLing Post readers!  Thank you so much!
If you have a recording of the 2016 Midwinter Broadcast that you'd like to submit, please do so by Friday. Sometime this weekend, I plan to publish a post with all of the recordings and your photos.
Please send your recordings with any notes and photos to my email address which can be found on the Contact page.