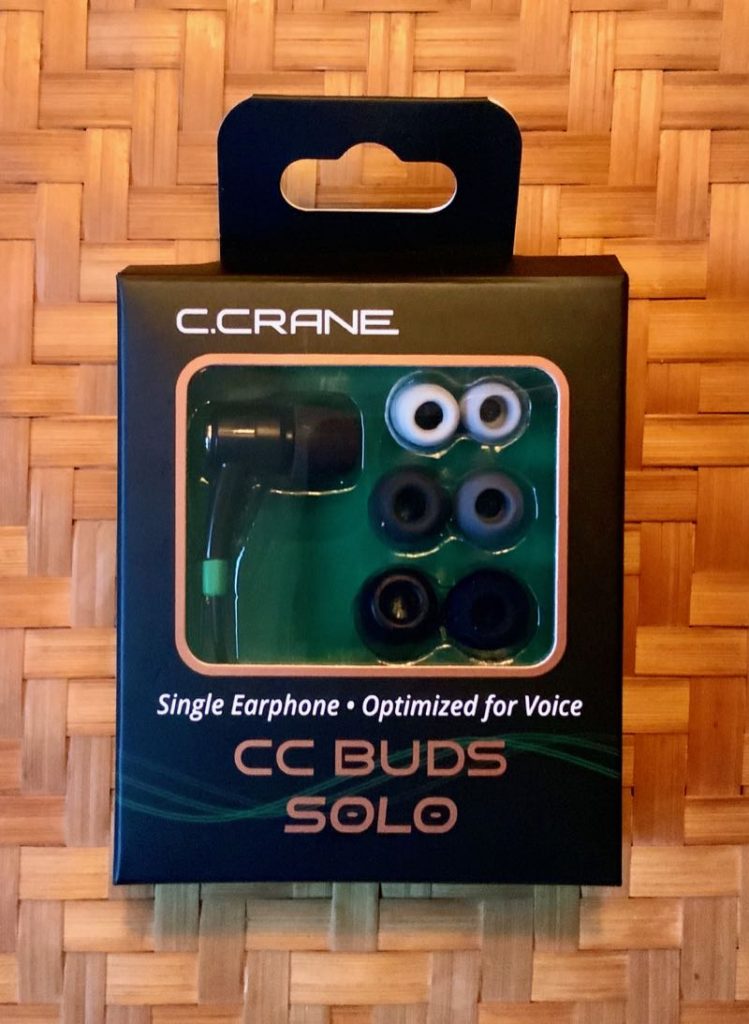 A few weeks ago, C. Crane sent me one of their newest radio accessories: the CC Buds Solo Single Earbud.
Here's the description from the C.Crane product page:
Single Earbud Optimized For Voice

The CC Buds™ Solo single earpiece provides a unique advantage over traditional earbuds because it allows you to interact better with others while listening to radio, podcasts or audiobooks (your boss will love you). The integrated stereo to mono plug works with smartphones, radios, tablets, and most other audio devices.

The Solo can give you a safety advantage when running, biking, or walking because you are more likely to hear if danger approaches. The cable is Kevlar™ reinforced for maximum durability. It is perfect for scanner radio listening. Can work well for law enforcement when greater awareness is needed.

Audio is tuned for superior voice clarity. Included are three silicone and three compressible foam covers––sized small, medium, and large. The small covers usually fits a small ear comfortably. Standard 3.5 mm headphone jack. Cord Length 48″.
At first blush, the idea of a single earpiece smacks of vintage solid-state radios. I've a number of classic portables that were designed around a hard-plastic single earpiece–anyone else remember those?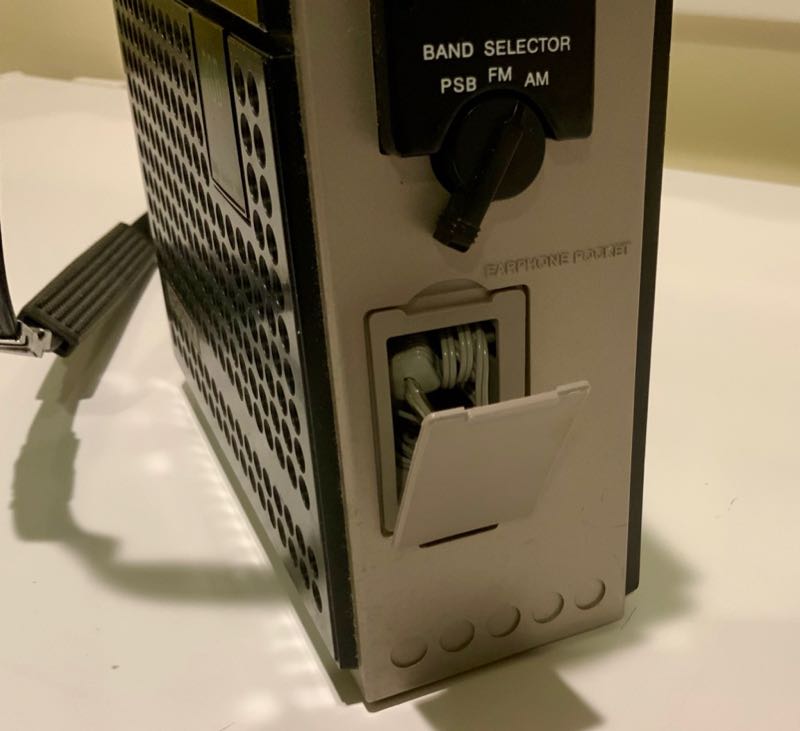 In fact, my Sony ICF-5500W (above) even has a little compartment to house its custom earpiece.
In my youth, I carried a hard plastic single earpiece with me everywhere, especially at school, because it made listening to the radio and still having some situational awareness possible. [Unfortunately, I was known to listen to the radio during classes…what a renegade I was back then!]
If you, too, used those hard plastic earpieces, I doubt you'd have ever described them as "comfortable." I never found them even remotely so. Those earpieces were functional, but the audio they produced was tinny and it was always difficult to keep them in my ear.
Think of the CC Buds Solo as the earpiece we all wish we could have had back then!
Here are some of the CC Buds Solo pros:
The audio quality is superb for spoken word
The earpiece is very comfortable (see notes below)
The audio plug allows for mono listening on stereo devices (obviously a must in 2019)
Features a super-strong Kevlar-reinforced cord
Includes a clothing clip that acts as strain relief
Ships with a small, soft carry bag
So does the Solo deliver what it promises? Yes, it does.
What I really love is the number of soft silicon and foam earpieces that ship with the Solo: a total of seven options, when including the default earpiece.
If you've ever used in-ear earbuds, you'll understand the importance of swapping out the soft earpieces to a size that best suits your ears––that is, to a size that makes for a comfortable seal.
The Solo might also be useful if your hearing is a bit better in one ear than the other.
Unlike single earpieces of old, it's actually a pleasure to use the CC Buds Solo earpiece.
Before using the Solo, I would often wear only the right earpiece of my stereo earbuds when I needed to be able to hear the environment around me. This obviously isn't ideal because the left earpiece would dangle, catch on my shirt or otherwise get in the way, and often lead to jerking out the right earpiece. Not to mention, it led to an awkward muffling (or altogether missing) of some of the sound in that other dangling earbud when stereo sound is split or processed differently for each ear. Clearly, not the best way to listen.
Now, when I'm driving, working, or walking, I can use the Solo clipped it to my shirt; it's a more simple and annoyance-proof solution that allows for greater mobility and permits me to hear all of the intended sound.
I've only used the Solo for spoken word; primarily AM/SW broadcast band listening and for listening to podcasts.
These days, while I've been at work on a home renovation, podcasts have become an essential part of my day by helping me pass the time while painting, sanding, cleaning, mowing, doing yard work, or carrying out other tedious tasks. A good podcast definitely keeps it fun. The Solo makes podcast listening easy.
And of course, the Solo is also a great solution for listening to audio books, too.
I'll admit, when I first saw the product announcement for the CC Buds Solo, I was curious if there'd still be a market for a mono earpiece. I suppose I proved it, myself, as I have found it quite useful when I don't need the total isolation or stereo sound from two in-ear earbuds.
Well played, C.Crane!
Click here to check out the CC Buds Solo Single Earbud at C.Crane.
Win a CC Buds Solo!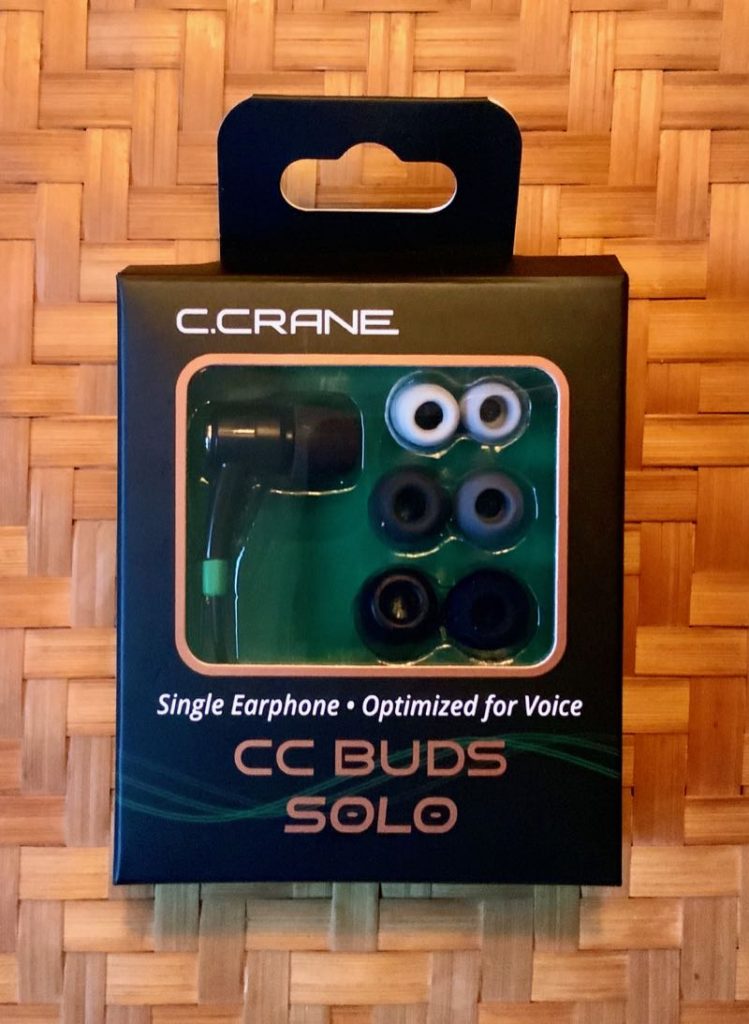 C.Crane kindly sent me two samples of the CC Buds Solo at no cost to me. I've used one for evaluation purposes and C.Crane is kindly allowing me to give the other away to a lucky SWLing Post reader.
Here's how you can enter our Solo giveaway!
As I mentioned, I consume a lot of podcasts these days. Here are just a few you might want to check out:
What are your favorite podcasts or radio shows?
Please leave a comment with some of your favorite podcasts or radio shows for a chance to win! Next Tuesday (July 30, 2019) I'll pick a winner at random from the comments section and ship them a brand new CC Buds Solo single earpiece courtesy of C.Crane!