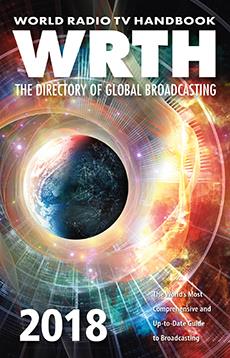 (Source: WRTH Facebook group via Sean Gilbert)
It's here!!

WRTH 2018 has been published and is available to order from www.wrth.com or your usual supplier.

Orders direct to our website will usually be dispatched the same day, or the first business day after (if ordering at the weekend or after business hours).
Other publications or internet resources may give you the broadcast schedules – but that is about it.

We give you the schedules and so much more. We have full contact details for each station; Station Identifications, as used on air; opening and closing melodies; transmitter details; verification methods and more. Add to that reviews of receivers, antennas and radio related accessories; articles from around the world capturing some of the little known services as well as the big, international broadcasters. Visit the website for the full story, sample pages and details of other products we offer.