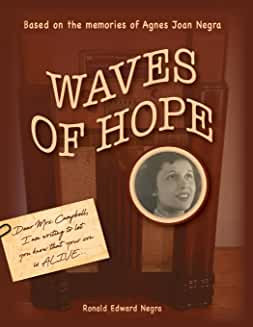 By Jock Elliott, KB2GOM
I just received this:
Dear Jock:
It is with a heavy heart that I must report that 102 year old, Agnes Joan Negra passed away last Friday, peacefully, and at home. She went into Hospice care about three weeks ago.
We had a private funeral for mom…immediate family only. But I wanted to pass on her obituary which can be found on website:
calhounmaniafuneralhome.com
Thanks for your support of Agnes and her incredible life story, "Waves of Hope"… It is truly appreciated.
We hope this finds you well.
Regards,
Val Negra
Agnes Joan Negra was a shortwave monitor during WWII who sent out more than 300 letters and postcards to families to inform them that their loved ones were captured and still alive.
Click here to check out Waves of Hope on Amazon.
If you would like to know more about how shortwave monitors impacted lives during WWII, check https://swling.com/blog/2022/04/wwii-radio-letters-a-real-life-shortwave-story/ and https://swling.com/blog/2022/04/world-war-ii-radio-letters-a-real-life-shortwave-story-part-ii/ .
As I have said before: And so, dear reader, never belittle your hobby of listening to the airwaves, because you never know when something you heard may be able to offer comfort in times of trouble.