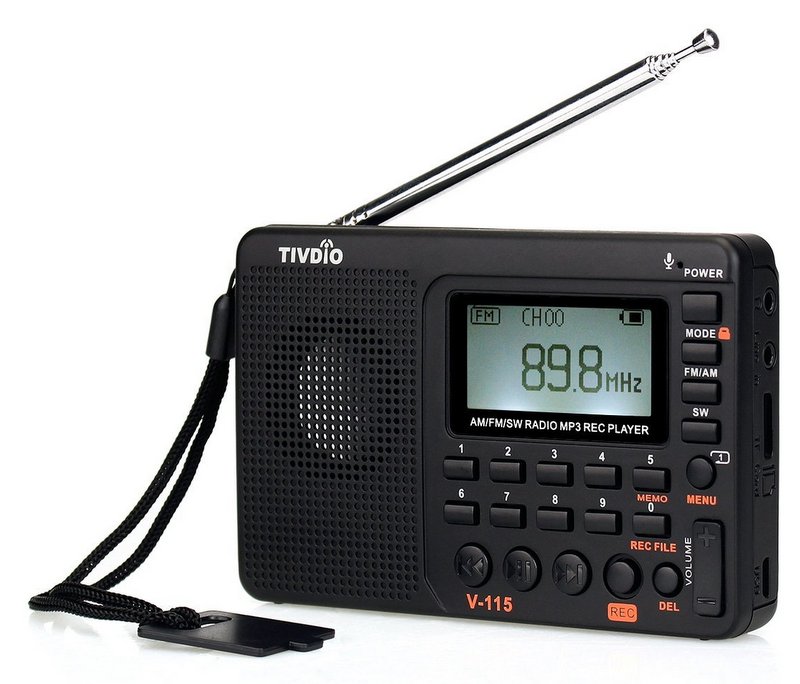 Many thanks to SWLing Post contributor, Dave Zantow (N9EWO), who notes that he has published a review of the Tivdio V-115 on his website.
Dave's conclusion? This little receiver is a "Decent Low Cost Pocket Set." I would whole-heartedly agree. I mean, this little radio is widely available on Amazon and eBay for around $19.00 – 25.00 US including shipping!  About as inexpensive as a radio gets.
Though you pay for what you get, with the Tivdio V-115 (a.k.a. Audiomax SRW-710S), you get a lot more radio than you would expect for the price.
In terms of performance, the V-115 isn't on par with even the venerable ($40-50) Tecsun PL-310ET (in my opinion).
However, the V-115 has decent off-air recording capabilities and is more sensitive than anything else in its price range that I've reviewed (despite internally-generated noise). I receive numerous inquiries from SWLs in India who seek a $20-30 receiver–the V-115 may be a good choice for those on a very tight budget.
But Dave's review goes into great detail about the V-115's quirks, performance and overall usability. I encourage you to read it before making a purchase decision.
Click here to read Dave's review.
The Tivdio V-115 is available via Amazon and eBay. It is also badged as the Audiomax SRW-710S. Click here to read other reviews we've posted.