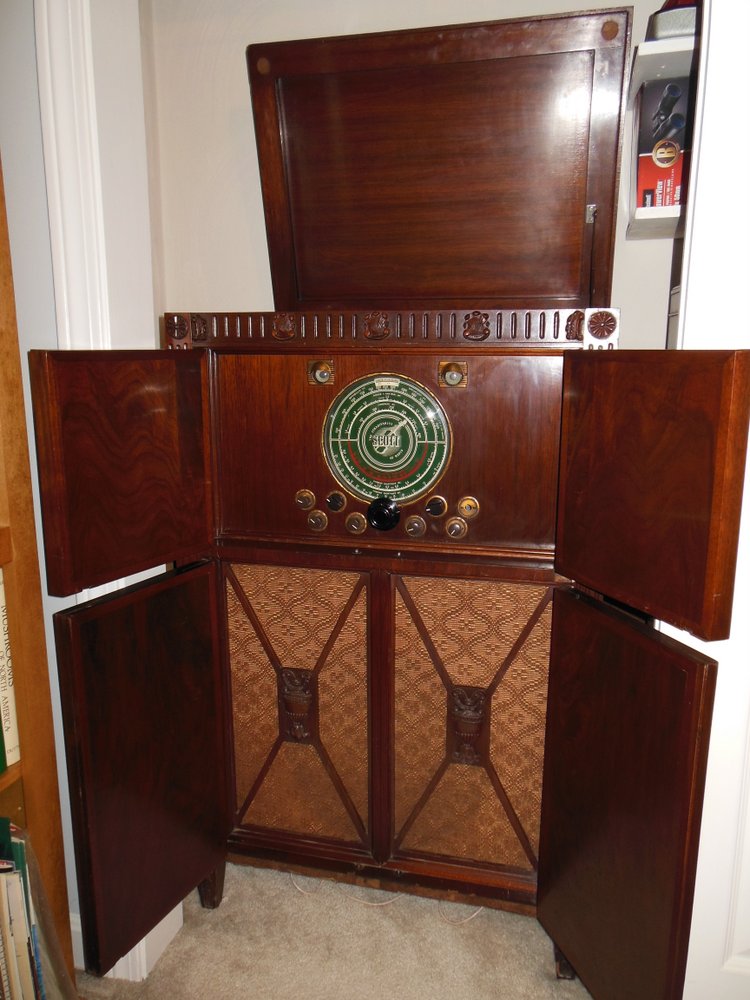 In response to an inquiry in our post about the Crosley WLW Model Super-Power Radio Receiver, SWLing Post contributor, Ken Carr, writes:
I'm not sure if my radio is a 'benchmark' but it sure is close to it.
It is the E. H. Scott Philharmonic Beam of Light console radio.
Mine appears to have been built in 1939 or early 1940. It has 30 tubes, most of which are covered by chrome-plated shields. The power supply/amplifier (4 6L6's in the output stage), receiver, 15″ speaker and cabinet easily weigh over 150 pounds.
It took me two years of occasional work (I am retired so I don't rush) to get it going and working reasonably well. I had to replace over 100 capacitors and correct some B+ voltage problems left by a previous repair person. 
None of the knobs are correct (mine came without them … 9 required) and replacements are difficult to come by (and quite expensive when they do appear).
When receiving a strong station the volume is such that it would easily drown out anything within 100 yards (and with no distortion).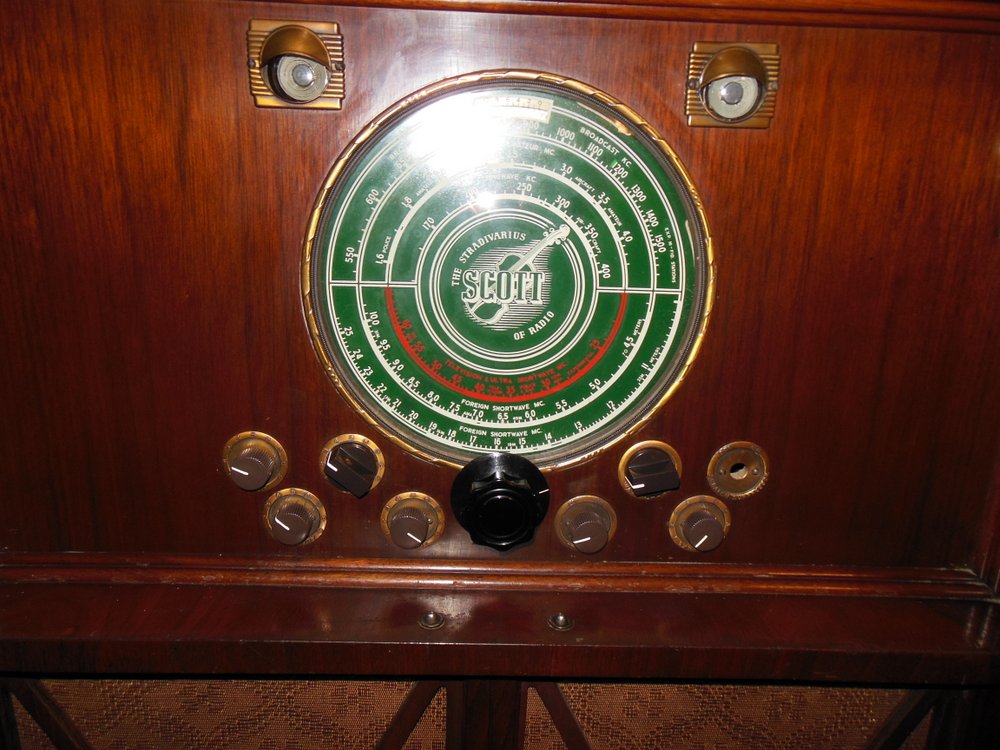 Some day I will post some details and photos on my WordPress site (idlenot.com). I'll be sure to let you know, Thomas. [Note: Yes, Ken, please do!]
Oh, the first time I powered it up and received a station they were playing Light My Fire (The Doors, I think). Appropriate. I put a video of it on YouTube. The radio is all apart as I was still working on it at the time.
Click here to view on YouTube.
Now that is serendipity, Ken–I mean, the first music you hear after restoring this beauty is Light My Fire? Brilliant!
The E. H. Scott Philharmonic Beam of Light is a benchmark console by any standard. I first learned about this radio through a local classified ad–the owner was selling the internal components (and original knobs) but had no cabinet. I believe he was asking $1200. The chrome plating is such eye candy, I can see why some owner in the past removed it from the cabinet to save space. Still, it was a shame the cabinet had been discarded–as one can see from your photos, the craftsmanship is simply stunning.
Ken, thank you for taking the time to share the Beam of Light console with us!
Post readers: you should check out Ken's blog, Idlenot.com, where you'll find more vintage radio and classic cars!