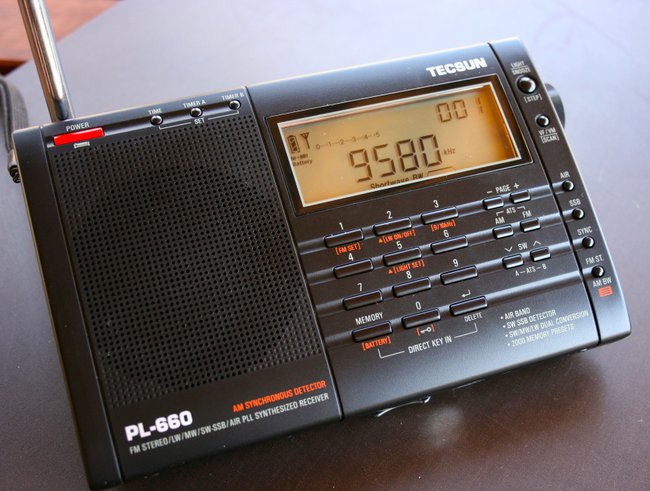 Many thanks to SWLing Post contributor, Dean Denton–our intrepid 13 year old DXer–who seeks a little input from the community. Dean writes:
I am going on holiday in July this year, to Fuerteventura in Islas Canarias, near west Africa.

This will be the first time I will be going on holiday, you will probably know the feeling. Because I am a hardcore radio-fan, I will of course bring my Tecsun PL-660, and I will be posting clips on my YouTube Channel, EuropeDX.

Please could you give me, some vital tips when going on holiday when DXing?

The Canary Islands are in close proximity to North West Africa, so I will be DXing: Morocco, Mauritius, Algeria, Western Sahara, Senegal and others.

To those who are reading this post, I am compiling a list of tech that I am bringing with me. Please help add to this list, off of your experience of being abroad.

Here is the list:

Shortwave Radio, Tecsun PL-660, for the immersion.
Tecsun AN-200 Loop antenna, for pulling AM stations.
Travel adapter, we all need one.
Portable MP3 player, to listen to music
A Portable Digital TV, for watching movies on USB.
An action camera w/lapel microphone, for capturing videos.
FM Transmitter, to show the locals what music is!
4G Mobile Data Router, internet is a basic human requirement.

Please suggest more!

I think that the AM and FM DXing will be breathtaking. The Canary Islands are located where I will be able to pick up African radio stations, but also Transatlantic Brazilian and American stations. Due to the high pressure and high temperature, FM Tropo is not rare in the Canary Island's climate. Enabling this, it will spark my YouTube channel.

Thank you for reading this, and I hope the SWLing community help me. If you would like to contact me, email me at europedx(at)gmail(dot)com.

Yours,

Dean.
Thanks, Dean! You're talking my favorite topics: radio and travel!
I know we have a number of readers who live in the Canary Islands.  No doubt, you'll get to experience some serious radio fun across the bands.
In terms of tips, I would suggest you assume your accommodation could be plagued with radio noise and you may be forced to find an outdoor spot to do all but your FM DXing. If you know where you're going to stay, check it out on Google Maps and see if there's an obvious safe spot to play radio outdoors. Of course, it helps if your accommodation has an outdoor space like a balcony, patio or garden.
Looks like you've got a pretty good checklist there. Here are a few additional items I typically take on a holiday DXpedition:
Earphones/Headphones (never leave home without them!)
A small back-up radio (if you have one–something like a Tecsun PL-310ET)
A copy of the World Radio TV Handbook (though I don't take the WRTH if space/weight are too tight–I rely on apps with offline schedules like Skywave Radio Schedules [Android] or Shortwave Broadcast Schedules [iOS])
Extra set of AA batteries for the PL-660
Small headlamp or flashlight for night time outdoor listening
Notepad and pencil for logs
SWLing Post readers: How do you plan and what do you take on radio holidays? Please feel free to comment and share your advice!