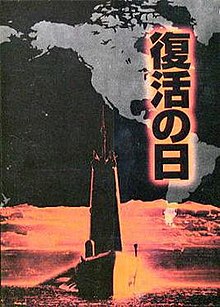 Many thanks to SWLing Post contributor, Emilio, who writes:
Hi Thomas
I hope you are healthy. A few weeks ago, I got COVID-19; fortunately, I got the vaccine a few weeks ago, so my symptoms were minimal. Today only a little cough remains.
In my isolation, I listened to a lot shortwave radio and watch many old movies, including this one:
Fukkatsu no Hi–literally Day of Resurrection, also known as "Virus"–is a 1980 post-apocalyptic science fiction film about an advanced virus wiping out all life on Earth except 863 people in Antarctica. "
Below I'll share a scene from the film–some mixed emotions about this scene as Japanese actors react.
So this is why need teach to young and kids the basic radio communication, and perhaps handle of armament. Ha ha! 😀
Wow! This is great–thank you for sharing this, Emilio! I do hope you're feeling better. I'm glad shortwave radio and post-apocalyptic Japanese films have given you refuge as your recuperate! I've gotten a number of messages recently from SWLing Post contributors out there who recently contracted a variant of Covid-19.
Readers, take some practical measures to avoid getting and spreading the virus, and stay healthy out there! We don't want to lose any more of our radio community to this nasty bug. 
Be well and happy DX!