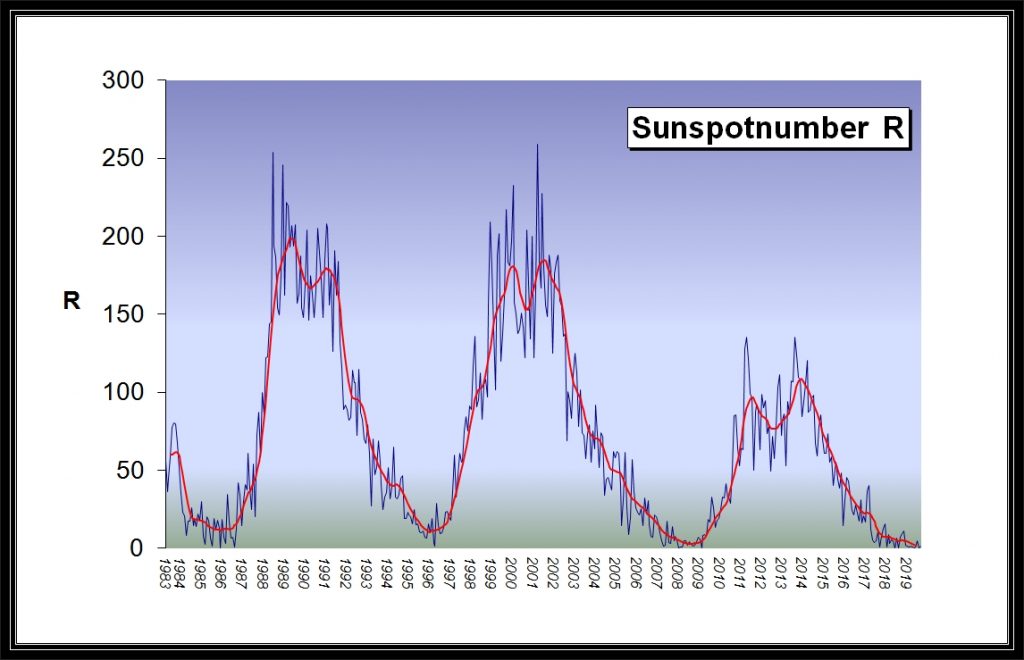 Solar Minimum is DEEP and appears to be continuing.  Observer Franky Dubois from Belgium – who posts for the Solar Section of A.L.P.O. – Assoc. of Lunar & Planetary Observers (http://alpo-astronomy.org/) has fully observed three complete Solar Cycles over the past 38-years and he's graphed the Sunsport R Number – defined as R = K (10g + s), where g is the number of sunspot groups and s is the total number of distinct spots. 
This is what he posted yesterday on the A.L.P.O. Solar Message Group:
Minimum cycle 21: 11.4 April 19[8]6
Minimum cycle 22: 10.4 May 1996
Minimum cycle 23: 2.88 November 2008
Status of cycle 24 thus far: 1.6
Many experts in December (2019) speculated we had reached "Solar Minimum" (error factor of +/- 6-months).  Well, it's 5-months later and we've only seen a couple of next cycle [reversed polarized areas] sunspots/small groups – most of which died-out very quickly and did not sustain a full transit across the observable disc of the sun.  We've seen no real evidence – yet – that we're on the other side or up-side of Minimum.  As an amateur/hobbyist astronomer & Solar Observer myself, I've seldom taken the time to set-up my gear & observe (even in wavelengths other than visible).
It's been discussed here and elsewhere before, but looking at the last 53-years of data there has been a very, very sharp decline in Solar Maximums [and Minimums] sunspot numbers.
Guest Post by Troy Riedel