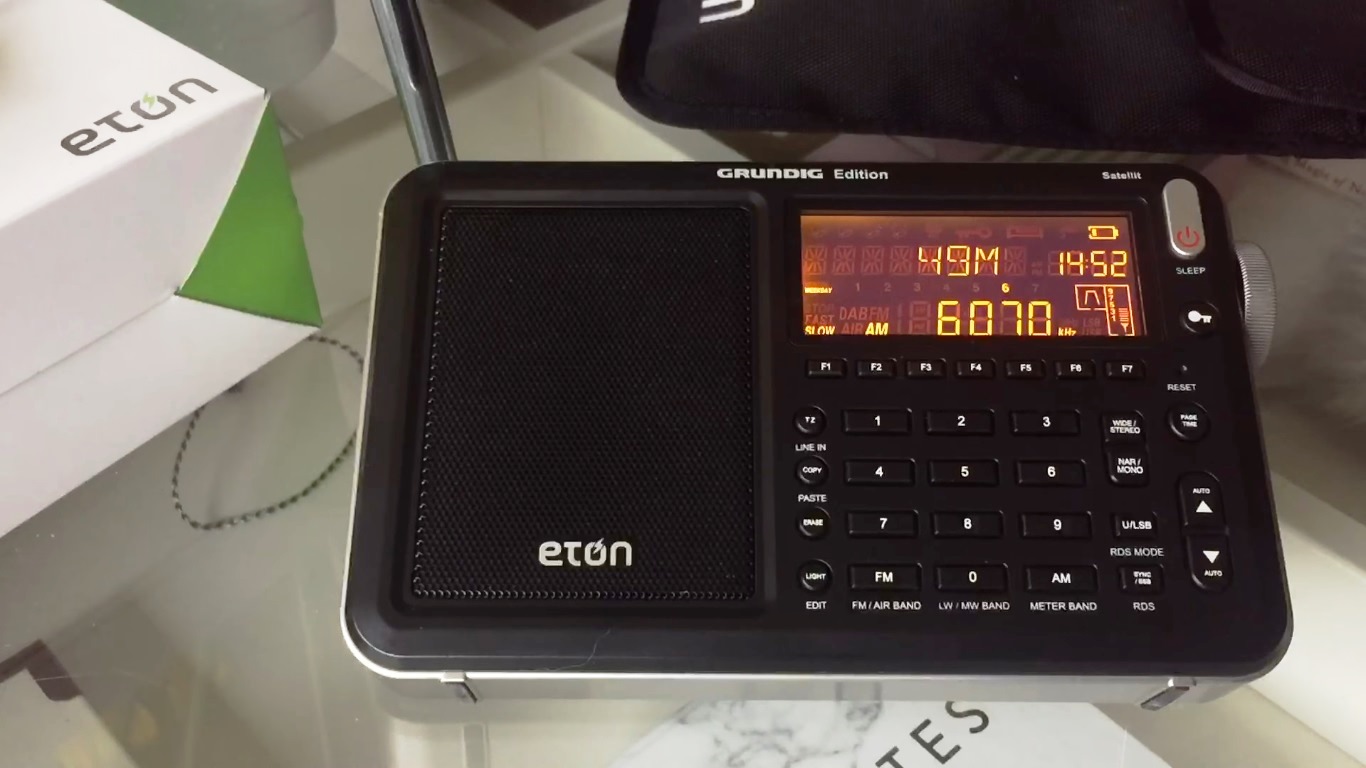 Hi there, I've just returned from a business trip to Genoa, Italy and took the Eton Satellit with me. Now, I'm sure many of you know from your own experiences that DXing from a noisy hotel room can be just about impossible – and so it was in the main. I did however manage to copy a very nice signal from BBC Radio 5 Live on 693 kHz medium wave and Chaîne 3, from Tipaza, Algeria on 252 kHz – the latter is a much more difficult catch back in the UK. Reception videos for these two signals also follow below and I have to say that given the very noisy environment, this was a pleasing result using the Eton's internal ferrite antenna. Prior to my trip this week, I recorded a really nice signal from Radio Nacional Brasilia on 11780 kHz and the best signal from North Korea (Voice of Korea KCBS) I've ever copied on the 41 metre broadcast band. Both are testament to the Eton Satellit's performance as an excellent portable reciever per se and it's hard-core DXing capabilities. Finally, what now feels a very poignant recording, I managed to catch – ABC Northern Territories on 2325, 2485 and 4835 kHz during the same session and on one reception video. Embedded videos and text links to these videos on Oxford Shortwave Log follow below, along with a brief video review of the main functions and features of the Satellit.
With regard to the closure of ABC on shortwave, my full support goes out Senator Nick Xeonophon and his quest to introduce new legislation to force the ABC to reinstate their shortwave transmissions. There, I've said it and that's enough politics for now lol. In the meantime, my plans to test the Eton Satellit against more established DXing portables remain in place and work commitments allowing, this should happen soon. Thanks for reading/watching/listening and I wish you all great DX!
---
Clint Gouveia is the author of this post and a regular contributor to the SWLing Post. Clint actively publishes videos of his shortwave radio excursions on his YouTube channel: Oxford Shortwave Log. Clint is based in Oxfordshire, England.