Many thanks to SWLing Post contributor, Troy Riedel, for producing this excellent comparison of the Tecsun S-8800 and Grundig Field BT "lunchbox" radios:
---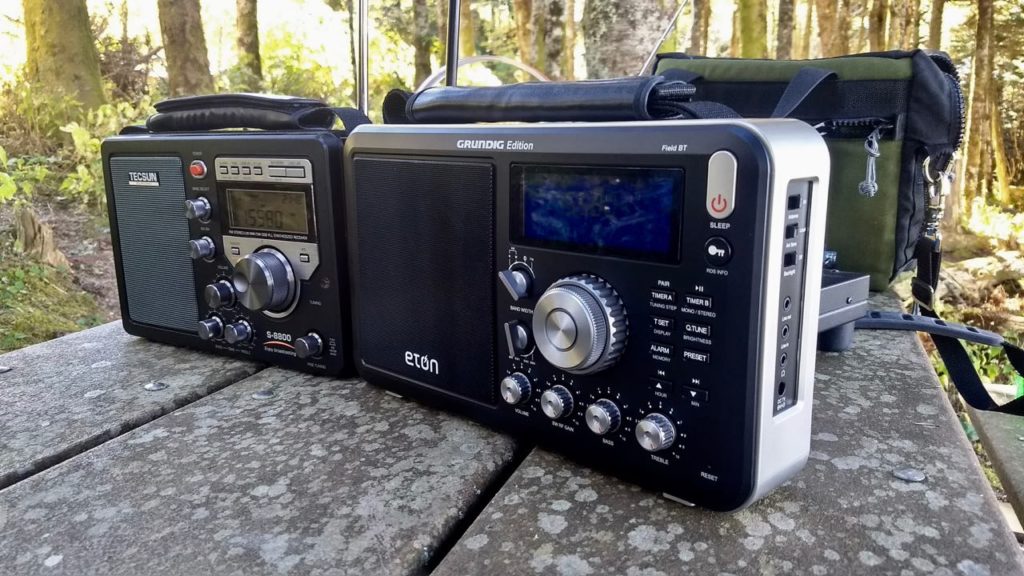 The Lunchbox Showdown
by Troy Riedel
I have been watching with interest all of the information & reviews of the new Tecsun S-8800. Frankly, I was especially interested in how it would compare with the other "lunchbox" SW radio – the Eton Grundig Edition Field BT (the Digitech AR-1748 lunchbox radio is also available in AUS for approximately $207US shipped). As I contemplated which lunchbox to purchase, I put together the following Excel comparison table of the S-8800 vs. the Eton Field BT to assist me in making my decision:
Tescun S-8800

Eton Field BT

Price:

$268.00

$129.99

Tuning Methods:
FM / LW / MW / SW
FM / MW / SW
Q.Tune
Q.Tune
Digital tuner, Jog dial manual tuning
Digital tuner, Jog dial manual tuning (Fast, Slow and Hold)
Auto scan tuning with 5 second stop (w/ storage)
Auto scan tuning (no tuning storage)
Direct frequency entry using the remote control
Fine Tuning Knob: SW Meter Band
No soft muting when tuning
"Subtle" Soft Muting when tuning
Station Storage Methods:
Manual storage: tune into stations manually and store them
Manual storage: tune into stations manually and store them
Semi-auto storage: storing stations during auto scan
Auto Tuning Storage (ATS): automatically tune into and store stations
FM / MW / LW / SW
FM / MW / LW / SW
AM Bandwidth:
Bandwidth selection (2.3, 3.0, 4.0, 6.0)
Narrow & Wide Settings (3.0*, 6.0*) *Reported
SSB:
SSB (USB/LSB)

N/A

SSB tuning steps at 10 Hz / 1 kHz
SSB Bandwidth selection (0.5, 1.2, 2.3, 3.0, 4.0)

N/A

FM with RDS

N/A

Bluetooth
Adjustable shoulder or hand carrying belt
Hand carrying strap
Remote control operation

N/A

SYNC:

N/A

N/A

Gain:
Local / DX antenna gain switch
Local / DX antenna gain switch
SW RF Gain Control
Memories:
650 station memories
50 station memories
Stored stations memory browsing
Auto Sorting Memory
LCD:
Standard Backlight
Orange Backlight
5-seconds or continuous settings
10-seconds or continuous settings
Clock/Alarm Time:
Clock/Alarm time (24H-format)
Clock/Alarm time (12 & 24H-format)
Alarm:
(1) Alarm
(2) Alarms
By radio only
By radio (60-mins) or buzzer (2-mins)
Digital Display:
Frequency & SW meter band
Frequency & Band (e.g. FM, LW, SW1)
Signal strength indicator
Signal strength indicator
Stored station location
Stored station location
Clock & Alarm time
Clock
Volume Level (while using remote)
Battery indicator & charging time
Battery Indicator
Sleep Timer A & B (Selectable)
RDS Info

* No Lock Feature

Display Lock "On"
Tuning Speed (Slow, Fast, Stop)
Sound Tuning:
Bass & Treble
Bass & Treble
Line In:

N/A

3.5mm Stereo Input for mp3 Player
Line Out:
(2) RCA Left & Right Stereo Channel Line Out
(1) 3.5mm Line Out for tape recorder or audio amplifier
Ant Selector:
Int. or Ext. Switch for FM/SW
Int. or Ext. Switch for FM/SW
FM/SW Antenna:
BNC: Low-impedance (50?) FM/SW
Coax: Low-impedance (50-75?)
MW Antenna:
High-impedance (500?) wire clamp terminals
High-impedance (500?) wire clamp terminals
Battery:
2 x 18650 Li-ion Cell
4 x "D" Cell
AC Adapter:
No AC included – does include a USB mini-B charging cable
7v 1200mA DC Neg Center included
Yes, the S-8800 without a doubt has more features than the Field BT.  However, the S-8800 is slightly more than twice the price of the Field BT ($268 vs. $130)!  Does the performance of the S-8800 equate proportional to the price difference?
Shortly after I made my Excel comparison table, Thomas published video comparisons of the S-8800.  I very much appreciated the review and video comparisons that pitted the S-8800 against several popular portables.  It gave me a baseline to set my expectations.  However, those videos didn't answer my question: "should I purchase the S-8800 or the Field BT"?
I contacted Thomas and I told him "we need an S-8800 vs. Eton Field BT" video comparison so SWL'ers have a true lunchbox vs. lunchbox comparison!  I volunteered to purchase an Eton Field BT and have it delivered to Thomas for him to compare the two (after which he would forward the Field BT to me).  After he hesitated, I replied: "what if I buy the Eton and we meet in North Carolina to compare them together"?  Fortunately Thomas readily agreed and I made the 6.5-hour journey from Southeast VA to Mount Mitchell State Park for the Lunchbox Showdown (864-miles roundtrip on my odometer)!
Thomas and I had a limited amount of time.  I arrived at noon.  Thomas and I had 8-hours … and that included time for Thomas' Parks On The Air (POTA) Activation, our S-8800 vs. Field BT comparison, we had to eat (it was a long drive for me!), and Thomas brought many other toys so we had to carve out time to "play radio" (and I can't drive 400+ miles to Mount Mitchell and not walk to the summit of the highest point east of the Mississippi River!).
Luckily conditions were as ideal as I have ever seen them (evidenced by the fact Thomas made contacts from TX to the Azores with his Elecraft KX2).  So please keep in mind, what follows is in no way a complete comparison.  And to be clear, it was never my intention to review either receiver (there are many people more competent than I am that have already done this – Thomas among them!).
My interest re: these two models is primarily limited to each's shortwave performance (I use a Sangean PR-D15 and a Grundig YB400 for AM DX, I prefer my Sangean PR-D15 for FM and I own 12 shortwave receivers).  Thus our goals were to find and compare multiple representative SW signals.  Thomas is obviously familiar with local AM stations in the area that he uses in his comparisons, thus we sought out a few AM signals (I recorded one to illustrate one huge difference that we both perceived in the two radios).  Due to time, hunger, and eventually darkness we had to call it a day at 8 P.M.
I used my iPhone 6S to record the following comparisons.  This was the first time I recorded shortwave signals.  In retrospect, I wish I had made the recordings longer but at the time I was unsure of how much memory each recording would used, how much time it would take to upload, etc., so I kept everything at 1-2 minutes.  As you will see, I recorded nearly all of the signals with the backlight off.  You'll see me reaching in, on Shootout 5, to tune off frequency – then back on – simply to show how the backlight would/or would not affect the weak signal on the Field BT (you'll also see that it's harder, outdoors, to read the Eton display without the backlight vs. the clearer Tecsun S-8880).
The Eton Field BT has its own SW RF Gain (a huge bonus) and you will see me reach into the field of view once or twice to fine tune the Field BT on weaker signals.  And if you've studied my comparison table, you'll see that the S-8800 has multiple bandwidth choices whereas the Field BT only has Wide & Narrow settings.
You will see me occasionally change the BW on both.  I preferred not to speak during the videos as not to mask the audio of the signal thus I will set-up the specifics of each video with each individual link to my new YouTube Channel, SW Hobbyist, that I set-up to host these (and hopefully many future SW-related videos to include radio recordings & antenna comparisons).
All videos
Date: Friday, 06 October 2017
Location: Mount Mitchell State Park, NC USA
Shootout #1
Frequency: 15580 kHz
Broadcaster: Voice of America (VOA)
From: Botswana
Target: East Africa
---
Shootout #2
Frequency: 15610 kHz
Broadcaster: WEWN
From: Vandiver, AL
Target: Europe
---
Shootout #3
Frequency: 15000 kHz
Broadcaster: WWV
From: Fort Collins, CO
* Wow, that's a strong signal – is this FM?!
---
** Shootout #4
Frequency: 15130 & 15140 kHz
Broadcaster: NHK Radio Japan via Issoudun, France & Radio Habana Cuba via Bauta, Cuba
Target: Africa & Western North America
** I wish I hadn't prematurely ended this recording – the Eton Field BT signal on 15130 improved after the recording ended
---
Shootout #5
Frequency: 15245 kHz
Broadcaster: Voice of Korea
From: Kujang, North Korea
Target: Europe
---
Shootout #6
Frequency:  11810 kHz
Broadcaster: BBC
From: Ascension Island
Target: Central Africa
---
Shootout #7
Frequency:  630 AM
Broadcaster: WAIZ Hickory, NC
*** This is where I believe you will see a difference in the sound/speaker
General Conclusions
Thomas and I both felt that the AGC of the Tecsun S-8800 was very slightly better (more stable – absolutely no "chug") than the Eton Field BT (again, a very subtle difference). We both liked the sound of the Eton Field BT much better – it was crisp, full and just seemed to "pop" through its grill (see Shootout #7). The huge thing we both disliked with the Eton Field BT is its tuning dial. Yes, it has Q-Tune so one can jump from 5000, 6000, 7000, etc., with the push of a button but the tuning dial (even in "Fast" mode) is painfully slow and deliberate (dare I say horrible in comparison to the S-8880?). We both love the fact the S-8800 has a remote. But even without the remote, the S-8800 was much more pleasurable to manually tune.
Not to speak for Thomas, but I believe we generally felt [overall] that the SW signals were essentially close enough to call even … the edge to the Tecsun on a couple and the edge to the Field BT on a couple of others (I specifically remember us both commenting on an Arabic language broadcast from Radio Saudi Arabia where we both felt the Field BT was a very clear winner – that was one of the signals that I did not record). The better "sound" of the Field BT's speaker may have influenced our opinions – a sound that was markedly better on FM, better on AM, but a sound that was much closer on SW.
My final thoughts and conclusion: Radios are like vehicles. No one vehicle is best for everyone. Each vehicle has a specific purpose and each has a subset of features. I own a large travel trailer. I need and thus own a heavy-duty diesel truck to tow it. But I surely wouldn't recommend my vehicle to somebody who only needs a commuter vehicle. That's why we have everything from SmartCars, to sedans, to SUVs, to dually diesel trucks. The same goes for radios. Some people will absolutely need SSB, others may demand SYNC (neither of these units has this feature!) while others may choose a radio based on size (compact for travel or larger models with a large, easy-to-read display for desk or tabletop use). Until now, I felt the video comparisons we had for the S-8880 were comparing a truck to an SUV to a sedan. At least now we have a few videos of two lunchbox radios compared side-by-side. True, one (the S-8800) is fully loaded (in vehicle terms: a 4×4 with a touchscreen GPS and DVD entertainment system). But not everyone who requires a truck needs a 4×4 with GPS and DVD entertainment system. Some truck owners prefer the smoother ride from a 4×2 truck. I think that's the best way to describe these lunchbox receivers.
Am I glad that I bought the Eton Field BT? For me – despite the cumbersome tuning of the Field BT – I feel the S-8800 is not worth 2x the price of the Eton (I got an even sweeter deal for my new, sealed box Field BT off eBay that was well under the $129.99 street price). But you can make your own decision, you can decide which features are must-have, and you can listen to these videos as well as the other videos that Thomas has already posted and determine if one of these lunchbox models are in your future. And because I learned so much regarding the video recording of shortwave signals (I suffered from tunnel vision while recording – not fully aware of what I caught and what I missed), I hope I can meet-up with Thomas again so I can do a better, more thorough job with a "Lunchbox Comparison, Deuxième Partie" (that French was for Thomas – I hope I got that correct!).
---
Thanks for putting together this comparison, Troy! It was great hanging with you last week on Mt. Mitchell!
If you're shopping for either of these radios, you have a few options:
The Tecsun S-8800 is only available worldwide via Anon-Co at time of posting. Eventually, they will begin appearing on eBay. There are retailers in Australia and Europe also selling the model (Important: make sure you're ordering a model from the latest production run which solves the DSP birdie problem in early units).
The Grundig Edition Field BT is available from a variety of retailers including Universal Radio, Amazon.com, Crutchfield, Adorama and others.  Occasionally, like Troy, you can find excellent prices on the Grundig Edition Field BT via eBay.