Many thanks to SWLing Post contributor, Don Moore–noted author, traveler, and DXer–for the latest installment of his Photo Album guest post series:
---
Don Moore's Photo Album: The Museums of Galicia
by Don Moore
Some of my favorite sites to visit while traveling are historical, marine, and military museums. I've always been interested in those subjects and sometimes those kinds of museums have a few old radios on display. That makes a nice bonus to the visit. Last year, I spent May and June traveling all over Spain (with some short excursions into neighboring countries). One of my favorite regions was Galicia, where I stayed for five nights in the capital of A Coruña and six days in a rural village to the east. And the museums of Galicia had some of the most interesting radio-themed items I've ever seen.
Galicia is that small region of northwestern Spain directly north of Portugal. It was part of the Celtic world (along with Brittany in France and the British Isles) and the coastline was home to Phoenician and Greek settlements. It later came under Roman rule along with the rest of the Iberian Peninsula.
Spanish is spoken everywhere but the people are proud of their native language, Galician or Gallego. The language looks and sounds like Portuguese with a lot of Spanish influence but is actually older than either of those. Some linguists believe that Portuguese was derived from Galician.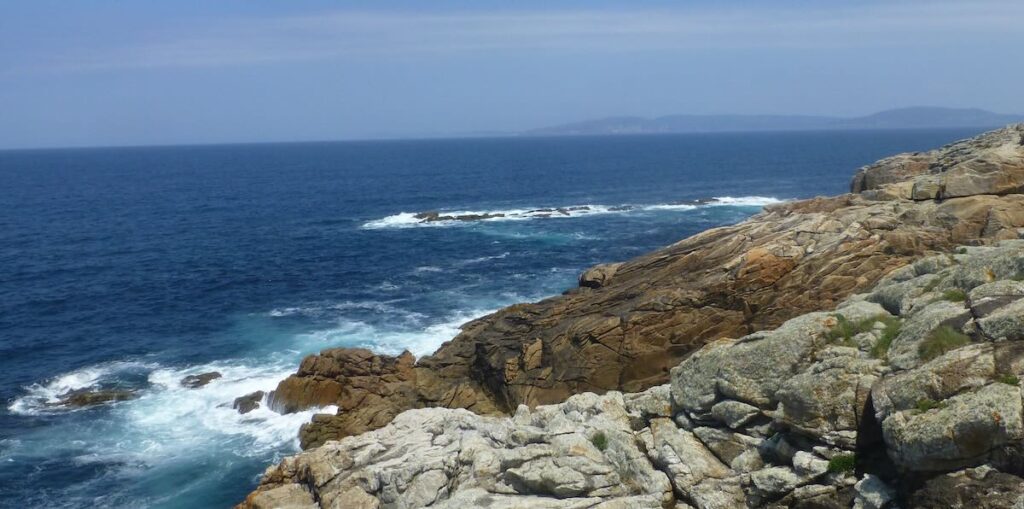 The rugged Galician coast is one of the most beautiful I've ever seen with its numerous bays, estuaries, steep hillsides, and rocky shore. Most of Spain is arid but Galicia is one of the rainiest parts of Europe so the countryside is green and lush. And because of the neighboring cold Atlantic Ocean, temperatures remain comfortable even when the rest of Spain (and places further north) are baking in the summer heat.
MOON RADIO
One of the first places I visited in A Coruña was the Museo Nacional de Ciencia e Tecnología on the west side of the harbor. The very first display in the museum is a piece of radio history like no other. In the 1960s NASA set up a network of communication stations around the world to maintain constant contact with the Apollo moon missions. The primary stations were located in rural California, near Canberra in Australia, and in the little village of Fresnedillas outside Madrid. When Neil Armstrong and Buzz Aldrin landed on the moon in 1969 Madrid was facing towards them and received the first radio transmissions from the surface of the moon. This museum has one of several redundant radio racks that were used to receive that historic broadcast.
After visiting the museum I wandered uphill to Monte de San Pedro Park, the best place in A Coruña to view the city and harbor. Those heights were also once vital to the city's defenses and the park contains several mothballed gun turrets built in the 1930s. Continue reading →