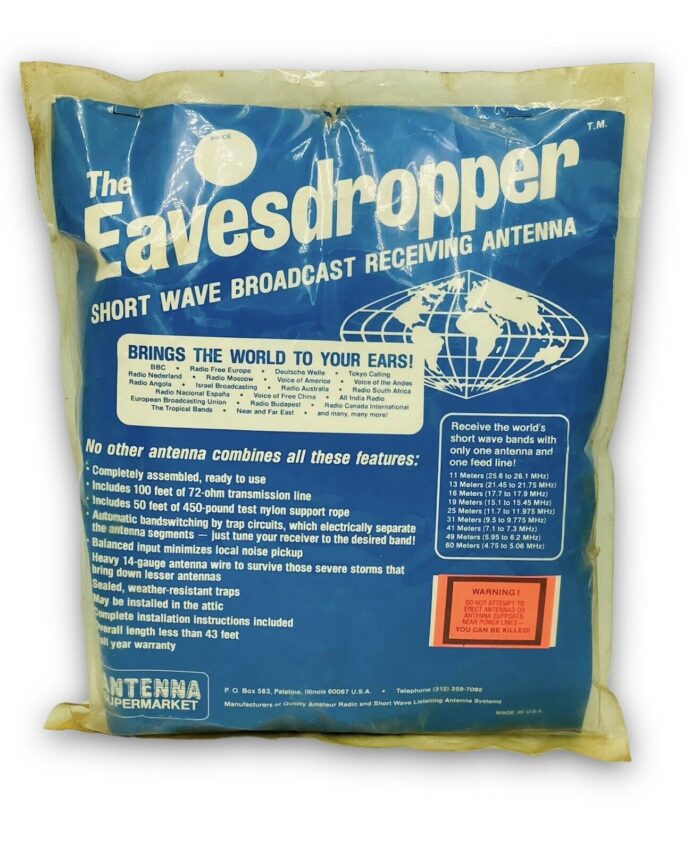 Many thanks to SWLing Post contributor, Jack Dully, who shares a link to this Eavesdropper antenna on eBay and writes:
When I had my roof top antennas, with the original building owner, I put up the Eavesdropper. There were 2 versions: this one with the twin lead-in and the second with a coax lead-in connection. I had both. One strung E&W and the 2nd N&S with a MFJ ant. switch. Both were up for about 7 years with a Zap Trapper surge protector and good cold water ground. They were pretty rugged withstanding blizzards, hurricanes and summer thunderstorms.
Back then, a company called Antenna Supermarket sold them for about 45 bucks a piece. Both worked great for me and they were only about 45′ long center fed From Yonkers, N.Y. I could pull in Madrid and Australia and New Zealand very clearly on my Eton E-1 XM. So I thought some readers might be interested in buying an eavesdropper on eBay, it works well. Take care and enjoy !
Thank you for sharing that, Jack! 
I remember seeing the Eavesdropper advertised back in the day.  I still believe it must have one of the best antenna names ever! The product image brings back memories of browsing radio catalogs!