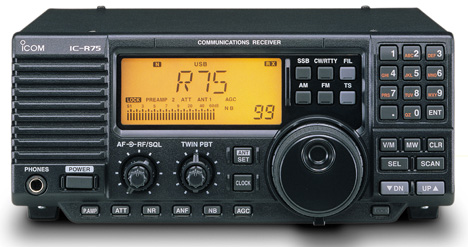 I've learned through a couple of sources that the Icom IC-R75–which has been a staple tabletop shortwave receiver for 16 years–is being discontinued by Icom. Here's what Dave Zantow (N9EWO) announced on his website:
"Last Call" ICOM IC-R75 Table Top HF Receiver : Yes, it's true and is not a misprint (news as from a solid reliable source) , Icom has discontinued the IC-R75 HF receiver. It had a great 16 year run on the market. I would NOT look for Icom to replace the model.  As I type this entry most US Icom dealers had limited remaining stock. But you can count on those to get slurped up fast !! So if you ever desired a NEW sample, you MUST do that NOW !!
Only a few weeks ago, in my presentation at the Winter SWL Fest, I noted that the IC-R75's days–as one of the last "legacy" tabletop receivers–were certainly numbered. Since the R75's introduction, a lot of the receiver market has shifted to SDRs and SDR-based tabletops (like the CommRadio CR-1a).
The IC-R75 must have one of the longest runs (with various iterations) of any tabletop receiver ever on the market–most impressive!
Universal Radio has a special package price of $619.98 for the IC-R75 which includes the DSP option and Joe Carr's antenna book and free shipping. Click here to view on Universal Radio's website.