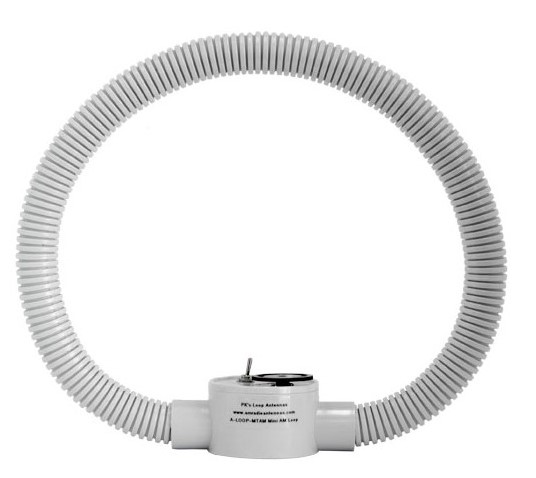 Many thanks to SWLing Post contributor, Ron, who shares the following review of the PK Loop Mini (A-LOOP-MTAM):
Standard PK Loose-Coupled Loops (the "A" series) are 14 inches in diameter…they are
for use with a receiver having a built-in ferrite bar antenna.

Don't think they're not capable of serious DX…a few years ago a friend in Texas
snagged and recorded France Inter (162 kHz) on a 14 inch standard PK LW
loop using a Sony 7600GR.

But this is about the PK Mini 10 inch loop for Medium Wave (there are none for
other ranges).

The build quality is superb as with all PK loops. The band has two ranges: 525 to
710 and 710 to about 1720 kHz. Paul Karlstrand uses a unique design consisting
of flat computer cable and a custom made circuit board to connect the turns
end-to-end.

The low end simply switches in a fixed capacitor across the variable to lower the
frequency.

The Mini has 25% less sensitivity than the standard 14 inch loop according to the website.
Currently it can be had for $66 USD delivered to your door from Melbourne…this one
was ordered on a Monday and showed up a week later,which is outstanding considering
it had to clear customs in NYC.

Performance is virtually identical with the Tecsun or Terk loops, which are 9 inch loops.
So why buy a PK?

You get what you pay for, or not…the PK is fairly robust compared to the Tecsun or Terk.
It's made to last and it's a PK Loop.

Here are some links for comparison purposes:

If you wish to enhance your loop try co-coupling it to your receiver with a Q-Stick :
Thank you, Ron, for sharing your experience with the PK Loop Mini. It certainly sounds like an excellent option for travelers and, like you, I agree that the construction quality is superb!